Aggressive Mayport FL Military Defense Attorneys
When You Need a Court Martial Lawyer in Mayport FL
Our court martial defense attorneys have successfully defended military servicemembers around the world.

Mayport FL Military Defense Lawyers
The experienced court martial defense attorneys at Gonzalez & Waddington have earned a reputation for defending service members at military installations worldwide. If you are stationed in Mayport FL and are under investigation for a military offense, then hiring the most hard-hitting military defense attorney can be the difference between having your rights trampled versus winning your case or redeeming your career. Our criminal defense attorneys defend Mayport FL military personnel in both UCMJ and administrative matters to include representing service members accused of sexual assault, rape, and other crimes under military law.
This video is an excellent example of why you need to hire the best court martial defense lawyers available.
Our military criminal defense lawyers aggressively defend false accusations of rape, child abuse, and sexual assault under Article 120 UCMJ, 120b UCMJ, and 120c UCMJ.
Unlike the majority of civilian defense lawyers or your assigned military counsel, pleading guilty is an option of last resort. Our attorneys make the military to prove their case beyond a reasonable doubt. We take almost every criminal case to trial and fight the allegations in front of a panel.
Our military court martial outcomes speak for themselves. The suspected military service member and his or her future is our main concern. Our criminal defense lawyers maintain lighter caseloads than the average free military defense lawyer so that we can concentrate on every case on an individual basis. Your case will not be delegated to a third party and we will not coerce you into pleading guilty at the eleventh hour. Our defense attorneys have contested military court martial and administrative separation cases in the U.S. and worldwide.
Mayport FL Court Martial Attorneys
Our hard-hitting military defense lawyers will use our experience to defend your court martial or administrative separation case in Mayport FL.
Call today to speak with an aggressive military attorney.
Military service members stationed in Mayport FL merit the best court martial attorneys possible to defend them at their court martial or administrative separation board.
If you or a loved one are stationed in Mayport FL and are accused of a military offense such as sex assault or if you are facing an administrative separation, NJP, show cause board, reprimand, then call our court martial defense lawyers immediately.
Click here for military law resources: Global Military Justice Reform Blog – SCOTUSblog
Mayport is a historic fishing village at the mouth of St. Johns River situated near big city Jacksonville, Florida. It is known mostly for Naval Station Mayport which is one of three major Navy installations in the Jacksonville area, and it is home to a busy seaport, as well as an air facility. Historic village of Mayport is home to casino boats and seafood restaurants, offering their freshest catch. Mayport is well known for its freshly-caught seafood, including the local specialty, Mayport shrimp.
Geography
Mayport has a mild climate that is great for outdoor activities throughout the year. The area in which Mayport is situated is covered mostly by oceans and seas (47%), forests (21%), croplands (17%), built-up areas (7%), and lakes and rivers (5%). Summers are hot, winters are characterized by mild temperatures, while both fall and spring stay cool. December is the coldest month, and its average high and low temperatures are 61 and 38 degrees. The hottest is July, which has the average high and low of 92 and 70 degrees. It is a humid climate, but the Atlantic breeze makes it tolerable.
History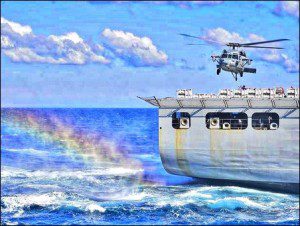 The beginnings of Mayport's history are closely connected with the Timucuan Indians, a tribe that lived in the area for more than 5,000 years. This was recorded by the explorer Jean Ribault, whose goal was to Mayport, as well as the St. Johns River. Ribault arrived on shore in 1562, accompanied by three of his ships. After a while, the French party was expelled by Spanish settlers from St. Augustine. The rule of Spain over Florida lasted until 1821, when the area was given to the US. In the late 1700s, what would become Mayport was part of a giant orange plantation and observers said that the area was almost empty of human life. The French were the ones who settled in the area in the 19th century, after which it began growing at a steady pace.
Industry
Fishing has always been the main economic activity of the people of Mayport, but in its beginnings it also supported itself by way of lumber industry. Up until the Civil War ended, the settlement was called Mayport Mills. Mayport was not only a fishing village, however. It was also a popular resort town, at least during the 1800's, that gained a reputation of having great hotels and taverns. Tourists were coming from Jacksonville just to cruise down the St. Johns River and enjoy the view. Until 1899, boats were the main mode of transport for going to and out of the town. Since Mayport was a busy town, both Jacksonville and Atlantic Railroad were built to connect it with Jacksonville. The fishing village stayed relatively isolated until the moment the construction of the US Naval Air Station began.
Military Base
Naval Station Mayport is a major United States Navy base situated 7 miles east of Jacksonville, Florida at the mouth of Saint Johns River. Since it was commissioned in 1942, the base has grown significantly, and now it is the third largest naval surface in the US. The base has historical significance since it served as a homeport to various aircraft carriers of the Atlantic Fleet, including Shangri-La, Franklin D. Roosevelt, Forrestal, Saratoga and John F. Kennedy. Mayport has a harbor capable of accommodating over 30 ships, as well as a runway that is capable of handling literally any aircraft. It occupies more than 3,400 acres, and hosts over 70 tenant commands, which includes the Helicopter Maritime Strike Squadron 40, as well as the Helicopter Anti-Submarine Squadron Light 60. Apart from all this, the base is also the training headquarters.