Aggressive Tucson, AZ Military Defense Attorneys
When You Need a Court Martial Lawyer in Tucson, AZ
Our military defense lawyers have successfully defended military service members around the world.

The experienced court-martial defense attorneys at Gonzalez & Waddington have gained a reputation for defending military personnel at military installations worldwide. If you are stationed in Tucson, AZ and are suspected of a military offense, then having the most hard-hitting military criminal defense lawyer can be the difference between losing your case versus winning your case or redeeming your career. Our military defense lawyers defend Tucson, AZ military service members in both UCMJ and administrative matters to include representing service members accused of sex assault, murder, and other crimes under military law.
This video is a perfect example of why you must hire the best court-martial attorneys available.
Our criminal defense attorneys defend false accusations of rape, child abuse, and sexual assault under Article 120 UCMJ, 120b UCMJ, and 120c UCMJ.
Unlike most civilian military criminal defense lawyers or your free military counsel, pleading guilty is an option of last resort. When our lawyers are retained, we compel the military to prove their case beyond a reasonable doubt. We take nearly every case to trial and fight the allegations in front of a jury.
Our military court-martial results are clear. The accused service member and his or her future is our primary concern. Our criminal defense attorneys keep lighter caseloads than the usual free military lawyer so that we can concentrate on each case separately. Your case will not be outsourced to a third party and we will not power you into a guilty plea at the last minute. Our defense lawyers have contested military court-martial and administrative separation cases in the U.S. and worldwide.
Tucson, AZ Court Martial Attorneys
Our high-powered court-martial defense attorneys will use our experience to defend your court-martial or administrative separation case in Tucson, AZ.
Call today to speak with an experienced court-martial lawyer.
Service members stationed in Tucson, AZ merit the best military defense attorneys possible to defend them at their court-martial or administrative separation hearing.
If you or a loved one are stationed in Tucson, AZ and are suspected of a military crime such as sex assault or if you are facing an administrative discharge, NJP, show cause board, reprimand, then contact our court martial lawyers now.
Click here for legal resources: Air Force CCA – SCOTUSblog
Tucson, AZ
Tucson is a city in the state of Arizona and is the county seat of the Puma County. This is where the world renowned university, the University of Arizona, is located. According to the United States Census of 2013, the population of the town approximates to 996,544. This city is currently recognized as the second-largest city in the state, in terms of population, and comes second to Phoenix. It is roughly 108 miles to its southeast and 60 miles to the north of the border between the United States and Mexico. Overall, it is the 33rd largest city in the United States.
The city is also known by its nickname, the Optics Valley, since there are almost 150 companies operating in the filed of optics in the city. Popular suburbs that have now been included in the city include Marana and the Oro Valley, which are located to the northwest of the main city, South Tucson (which is an enclave to the south of downtown Tucson) and Sahuarita, which is situated south of Tucson.
Additionally, Tucson is mainly made up of the alluvial plains of the Sonoran desert and is surrounded by five minor mountain ranges, which are the Tortolita Mountains and the Santa Catalina Mountains in the north, the Rincon Mountains in the east, the Santa Rita Mountains in the south and the Tucson Mountains in the west. The Sonoran desert is located on Santa Cruz River.
Davis-Monthan Air Force Base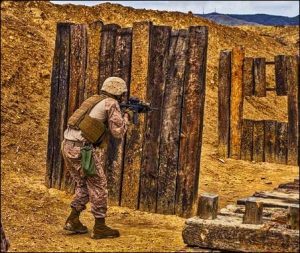 The Davis-Monthan Air Force Base belongs to the United States Air Force and falls within the boundaries of Tucson. It was set up in 1925 and was initially known as the Davis-Monthan Landing Field. This base has been named after pilots who took part in the First World War, Oscar Monthan and Samuel H. Davis, who were both natives of Tucson. Davis was a student at the University of Arizona before he joined the army in 1917 and passed away in an aircraft accident in Florida in 1921.
Monthan joined the army in 1917 as a private candidate. He was initially appointed as a ground officer and became a pilot later on through his career. He passed away in a crash in Hawaii.
Intriguingly, the main host unit at this Air Force Base is the 355th Fighter Wing, which is assigned to the Twelfth Air Force. It is also part of the Air Combat Command. Moreover, it provides support in various aspects, such as logistical, operational, mission and medical support to any assigned unit.
The Davis-Monthan Air Force Base is well-known because the 309th Aerospace Maintenance and Regeneration Group of the Air Force Materiel Command is located here. This points forward to it as the main aircraft boneyard for any excess government and military aircrafts.
Looking for Legal Aid?
Life in the armed forces is very different from that led by civilians. It is rigorous and restricting because of the firm rules and regulations that the military has in place, and the legal action that one has to face in case of any trespassing of these rules.
To ensure that any individual in such a situation minimizes the potential consequences that he or she would otherwise have to face, it is best to get in touch with expert military attorneys or court-martial defense lawyers. Under their guidance, protecting their career is possible since military lawyers have specialized knowledge, training and years of experience that allow them to take action accordingly.