Aggressive Sierra Vista, AZ Military Defense Attorneys
When You Need a Court Martial Lawyer in Sierra Vista, AZ
Our military defense lawyers have successfully represented service members worldwide.

The experienced military defense lawyers at Gonzalez & Waddington have earned a reputation for representing military personnel at military installations worldwide. If you are stationed in Sierra Vista, AZ and are suspected of a military crime, then retaining the most experienced court-martial defense lawyer can be the difference between losing your career and family versus winning your case or saving your career. Our court martial lawyers defend Sierra Vista, AZ military service members in both UCMJ and administrative matters to include defending military service members suspect of of sexual assault, murder, and other crimes under military law.
This video is a perfect example of why you need to select the best court-martial lawyers available.
Our criminal defense attorneys defend false accusations of rape, child abuse, and sexual assault under Article 120 UCMJ, 120b UCMJ, and 120c UCMJ.
Unlike most civilian criminal defense lawyers or your free military attorney, pleading guilty is not something we commonly recommend. When our lawyers are retained, we compel the military to prove their case. We take nearly every criminal case to trial and fight the allegations in front of a panel.
Our military court-martial results are clear. The suspected military service member and his or her future is our main concern. Our court-martial defense lawyers maintain lighter caseloads than the usual appointed military defense attorney so that we can focus on every client on an individual basis. Your case will not be outsourced to a random lawyer and we will not intimidate you into a guilty plea at the eleventh hour. Our military attorneys have defended military court-martial and administrative separation (ADSEP) cases in the United States and around the world.
Sierra Vista, AZ Court Martial Lawyers
Our aggressive military defense lawyers will use our skills to fight your court-martial or ADSEP case in Sierra Vista, AZ.
Call today to speak with an experienced court-martial attorney.
Military service members stationed in Sierra Vista, AZ deserve the best court-martial lawyers available to represent them at their trial or ADSEP proceeding.
If you or a loved one are stationed in Sierra Vista, AZ, and are accused of a UCMJ crime such as sexual assault or if you are confronted with an administrative separation, NJP, show cause board, letter of reprimand, then call our court martial lawyers immediately.
Click here for military law resources: National Institute of Military Justice – AFI 51-201: Admin of Military Justice
Sierra Vista, Arizona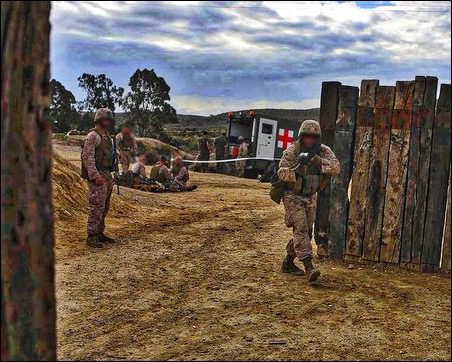 Sierra Vista is the main economic, recreational and cultural hub of Cochise County in Arizona. It is a part of the larger Sierra Vista-Douglas Metropolitan Area with Huachuca Mountains rising on the Southwest side of the city and San Pedro River flowing on its East. The Mountain range comprises of two prominent peaks Miller and Carr, both rising to above 9,000 feet. The city's inhabitation was spurred by the maintaining of the still existing Fort Huachuca and the building of the El Paso & Southwestern railroads. These facilities provided outsiders with security (after the Apache wars) and connectivity respectively.
After gradual arrival of inhabitants, the city was officially incorporated in 1956 and today has a thriving population of over 43,000 people. An abundance of natural beauty has made Sierra Vista an important attraction for sightseers and a hub of local tourists. The Ramsey Canyon Preserve and other local canyons harboring hundreds of different bird species has given Sierra Vista the ni
ckname of "Humming Bird Capital of the United States." Likewise, the Sierra Vista Aquatic Center alias the "Cove" is a swimming and diving facility which contains over 575,000 gallons of water and is a major attraction for tourists due to its ability to switch between wave and competitive swimming patterns and a water therapy treatment facility.
Fort Huachuca
Fort Huachuca comes under the domain of the US Army Installation Management Command whose main purpose is to facilitate military personnel and their families, whichever installation they are stationed in both domestic and foreign. The facilities they aim to provide include improved healthcare, housing and education. The base itself hosts almost a one-to-one ratio of civilians to military personnel with 5000 and 7,500 belonging to each respectively.
Furthermore, the base also hosts the Network Enterprise Technology Command along with the US Army Intelligence Center and the 111th Military Intelligence Brigade. In the case of the former the base allows the US army to plan, produce, install and operate Army Cyberspace while performing interdiction missions on attempts at espionage.
Such a multitude of commands and formations on a single base gives rise to a complex system of maintaining law and order particularly due to the sensitivity of the jobs at hand. Such an environment gives rise to blame game within installations that may lead to victimization during courts-martial proceedings. Expert legal aid during such a scenario becomes a necessity and every soldier involved should know which doors to knock on.