Aggressive Fort Eustis, Virginia Military Defense Attorneys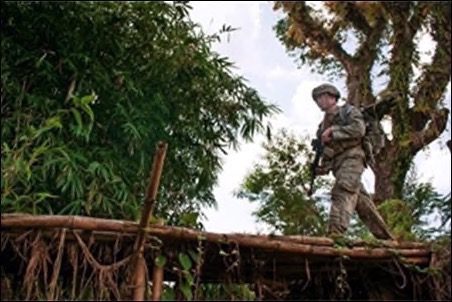 Our firm's founding attorneys, Michael Waddington and Alexandra Gonzalez-Waddington, graduated from Temple University School of Law in Philadelphia, PA. In addition, Mr. Waddington is a member of the American Board of Criminal Lawyers. The ABCL is one of the most prestigious legal groups comprised of some of the most influential criminal attorneys in the country. Entry is by invitation only and is limited to extremely accomplished criminal lawyers that have a decade of experience defending criminal trials. At this time, they must have defended 50 or more felony cases and must have won 35 or more jury cases.
Also, he was voted a "Super Lawyer" in Georgia and is rated Superb on AVVO.com. A few of Michael Waddington's cases were made into movies, such as "The Kill Team." He also regularly teaches criminal attorneys on trial advocacy.
Our experienced court-martial defense attorneys will use our knowledge to defend your court-martial or ADSEP case.
Call today to speak with a hard-hitting civilian defense attorneys.
Service members require the best court-martial defense attorneys possible to represent them at their court-martial or ADSEP proceeding.
Military Sex Crimes, Penalties, & Legal Defenses
Our aggressive military lawyers and their results speak for themselves from less aggressive attorneys.
If you or a loved one are charged with a military Article 120 UCMJ offense or if you are facing an administrative discharge, Article 15, show cause board, letter of reprimand, then contact our civilian defense attorneys today.
Fort Eustis, VA Military Installation
Many of the children who live at Joint Base Langley-Eustis attend schools at Hampton City School District, Newport News Public Schools District and Norfolk Public School District. The Common Ground has a School Liaison Program website, Langley AFB Eustis, for more information about local school districts, homework assistance in Virginia, parent resources and more.
For more information, see the Education section of the website or contact the school liaison officer during installation. Fort Eustis community amenities include a fitness center, multi-purpose room, TV and computer center. The property also boasts nearby family homes in Langley, including a newly built shopping centre, state-of-the-art gym, splash park with indoor and outdoor pools, bowling alley, camping, dry cleaning, cinema, shooting range, veterinary clinic and an 18-hole golf course.
The base is located on the historic site of Hampton Road, a joint facility serving all branches of the military, with the majority of air forces and the Army. Fort Eustis is home to the US Army Transportation Corps which includes the Transportation Center School, the Aviation Logistics School, the Army Training and Doctrine Command and the NCO Academy. The area is steeped in nautical history, and anyone expecting PCs to move to the base will feel at home with the area's military-friendly atmosphere.
Fort Eustis Court-martial Attorneys
Eustis' main units include the Army Transportation Corps, the 7th Support Brigade, and the U.S. Army Aviation Logistics School. Fort Eustis is home to the US Army Training and Doctrine Command, the Aviation Logistic School and the 7th Transportation Brigade. Offiziers and recruited soldiers receive training and hands-on training in all transportation modes, aircraft maintenance, logistics, deployment, doctrine and research at Fort Eustis and Fort Story.
Under the BRAC legislation of 2005, the administration of Fort Eustis was transferred to the 633d Air Base Wing of the USAF. In 2010, the base merged with nearby Langley Air Force Base (now Joint Base Langley-Eustis), and its former Fort Story sub-facility was redesigned as a naval installation. Fort Eustis remains an important training center and new home of the US Army Training and Doctrine Command. Due to the realignment and closing of the Fort Monroe base it moved there in 2005.
633rd Air Base Wing of the US Army, Air Combat Command
Hampton Road is home to the 633rd Air Base Wing of the US Army, Air Combat Command, Training and Doctrine Command and many other units at the top of the spear. Fort Eustis, Virginia is situated in the town of Newport News and is also known as Joint Base Langley-Eustis (JBLE). The Hampton Roads Metropolitan Area includes Virginia Beach, Norfolk and Newport News, Virginia, and is home to JBLE.
The Hampton Roads metropolitan area of Central and Coast Virginia tops the list of the United States areas with large military populations. Hampton Roads and the town of Newport News are home to Joint Base Langley-Eustis, consisting of US Army Base Fort Eustis and Langley Air Force Base. The Balfour Beatty residential area between Langley Joint Base and Fort Eustis in Newport News is located in the charming community of Hampton Roads in Virginia.
Virginia Military Defense Lawyers
Virginia Court-martial Defense Lawyers
In 2010, Base Reignment and Closure Act (BRAC) merged the Langley Air Force Base with Army Fort Eustis with Armys in 2010, but only after two of the most prominent military facilities had been moved. Joint Base Langley-Eustis (JBLE) and Air Force Control, the other joint bases, share a perimeter, while the air base and the base are separated by 17 miles on opposite peninsulas. Langley is in Hampton, VA, while Fort Eustis is in Newport News, VA. It is the oldest active U.S. air base.
The 8,200-acre Fort Eustis was originally a US Army site that was built as a training center for units of the Coast Artillery Corps and as a World War I ballooning school. Over time, a Federal Correctional Facility, a Work-in-Progress Administrative Facility, a National Youth Administration facility, the Langley Air Force Base Bombing Site, an Anti-aircraft Training Facility, a POW Camp and a Transportation Training Center have been used all together.
Part of the land allocation is now believed to be military housing, a golf course and a shooting range at Fort Eustis. The facility, known as Fort EUSTIS, was not named until 1918, when the US Army purchased Mulberry Island in preparation for the First World War. The base was reopened in August 1940 as a military facility called the Coast Artillery Replacement Training Center.
Whatever you are to move at Fort Eustis, Langley Air Force Base or any other military site (PC) located in the area, you will find that you will have a lot of fun during your downtime. The Langley-Eustis Common Base and its surrounding area are home to many historic sites, museums, art galleries, great restaurants, breweries and a lively shopping district. The base enjoys four seasons and a mild temperate coastal climate, and residents enjoy many outdoor recreational opportunities throughout the year in Virginia.
Virginia Military Attorneys
The visitor center at Langley Air Force Base issues temporary vehicle passes and provides directions and information about the base. Fort Eustis is located within the many military bases in the region and requires bridges and tunnels so that everyday traffic jams can be avoided for those living near the base, but leisure and shopping adventures can be affected by the frequency of traffic jams. It's more affordable than Northern Virginia and cheaper than the Army bases inland.
Two of the most prominent military facilities retain most of their own service bases and accommodations. Our experience representing servicemen and women stationed at Joint Base Langley-Eustis is world-class.