Aggressive Hampton, VA Military Defense Attorneys
When You Need a Court Martial Lawyer in Hampton, VA
Our military defense attorneys have successfully defended military service members worldwide.

The hard-hitting court martial defense attorneys at Gonzalez & Waddington have developed a reputation for defending military members at military installations worldwide. If you are stationed in Hampton, VA and are accused of a military offense, then having the most experienced criminal defense attorney can be the difference between losing your career and family versus winning your case or redeeming your career. Our criminal defense lawyers represent Hampton, VA military service members in both criminal and administrative matters to include defending military service members accused of sexual assault, adultery, BAH fraud, and other offenses under military law.
This film is a perfect example of why you must select the best court martial attorneys that you can find.
Our criminal defense attorneys defend false accusations of rape, child abuse, and sexual assault under Article 120 UCMJ, 120b UCMJ, and 120c UCMJ.
Unlike most civilian criminal defense attorneys or your free military counsel, pleading guilty is not something we commonly recommend. Our attorneys make the military to prove their case. We take just about every criminal case to trial and fight the allegations in front of a jury.
Our military court martial results are clear. The accused service member and his or her future is our chief concern. Our military defense lawyers keep smaller caseloads than the typical appointed military defense attorney so that we can focus on each trial on an individual basis. Your case will not be delegated to a random lawyer and we will not coerce you into pleading guilty at the last minute. Our court martial defense attorneys have successfully contested military court martial and administrative separation (ADSEP) cases in the U.S. and around the world.
Hampton, VA Court Martial Attorneys
Our experienced court martial defense attorneys will use our experience to fight your court martial or administrative separation (ADSEP) case in Hampton, VA.
Call today to consult with a high-powered court martial defense lawyer.
Service members stationed in Hampton, VA merit the best court martial defense attorneys available to represent them at their court martial or administrative separation board.
If you or a loved one are stationed in Hampton, VA and are suspected of a UCMJ crime such as sex assault or if you are dealing with an admin discharge, NJP, show cause board, reprimand, then call our court martial attorneys right away.
Click here for legal resources: Fidell's CAAF Rules Guide – JAGMAN (JAGINST 5800.7F)
Hampton, VA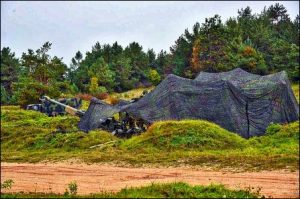 The city of Hampton is situated in the Commonwealth of Virginia, and along with six other major cities, forms the so-called Hampton Roads metropolitan area. According to the latest census conducted by the US government, the city has a population of just over 137,000 people. Since it has a long and rich history, it is a place of interest for thousands of tourists. But heritage sites are not all there is to this area – Hampton is also home to one of NASA's research centers that have helped during the landing on the Moon. This is why the Virginia Air and Space Center is one of the city's most popular attractions.
Geography
The city of Hampton is located on the southeastern side of the so-called Virginia Peninsula. It is a part of the Hampton Roads Beltway, which boasts the first bridge-tunnel ever built. Hampton occupies a total of 136 square miles, 51 square miles of which is land, and 85 is covered in water. This means that over 60% of the city grounds is water territory. To the north of Hampton lies York County, to the south and west there are the cities of Newport News and Portsmouth, and to the south you can find Northampton County. When it comes to climate, Hampton has four seasons, all of which are relatively mild, except for the summer. Summers are usually rather hot and humid, although they are also characterized by cool evenings. There is the average six-inch snowfall during winters, and a 47-inch annual rainfall.
History
In 1606, the first group of English settlers landed on the coast of the Atlantic Ocean near Hampton. It didn't take them long to discover the territory that now belongs to the city, which they first named Old Point Comfort. This spot served as a defensive location for quite some time, and would later become known as the place where the first slave ship from Africa would come ashore in the history of the English-occupied territory. The city of Hampton played an important role in the Civil War, especially thanks to Fort Monroe. In 1849, it was finally given the official title of an independent city. The military bases located near Hampton played a significant part in both World War II and Vietnam War. It was Langley Air Force Base that hosted most of the soldiers' families while they were waiting for their fathers and husbands to return from the war.
Industry
Hampton is a bustling city, packed with a wide range of different businesses and retail areas. As one of the largest employers, the Peninsula Town Center hosts dozens of retail stores. It is a part of the urbanization project that was devised by the local government. What has been the city an even more attractive destination is the development of many new residential areas, as well as public facilities, one of the most important being the newly-opened fishing pier. Since there is a large military base right outside the city grounds, the local economy has also been shaped by the military presence.
Military Presence
Located just outside the borders of the city of Hampton, the Langley Air Force Base is one of the largest employers in the area. It is a US military installation that was established in 1916, just before America entered World War I. It was named in honor of the aviation pioneer S.P. Langley, and to this day hosts many important Air Force units. It is also home to the 633rd Air Base Wing, the 192D Fighter Wing, the 1st Fighter Wing and the Surveillance and Reconnaissance Wing. It is one of the oldest military posts that belong to the US Army.
Hampton Military Defense Lawyers – Court Martial Attorneys