Aggressive New Bern, NC Military Defense Attorneys
When You Need a Court Martial Lawyer in New Bern, NC
Our military criminal defense attorneys have successfully represented service members around the world.

The aggressive military attorneys at Gonzalez & Waddington have developed a reputation for defending military service members at Army, Navy, Marine Corps, Navy, and Coast Guard installations worldwide. If you are stationed in New Bern, NC and are accused of a military crime, then hiring the most hard-hitting military lawyer can be the difference between losing your case versus winning your case or redeeming your career. Our defense lawyers represent New Bern, NC military service members in both criminal and administrative matters to include representing service members suspect of sex assault, theft, and other crimes under the UCMJ.
This video is a great example of why you should select the best court martial attorneys available.
Our criminal defense attorneys defend false accusations of rape, child abuse, and sexual assault under Article 120 UCMJ, 120b UCMJ, and 120c UCMJ.
Unlike most civilian military defense attorneys or your free military counsel, pleading guilty is an option of last resort. We compel the military to prove their case. We take just about every case to trial and fight the allegations in front of a jury.
Our military court martial victories speak for themselves. The suspected military service member and his or her desired outcome is our chief concern. Our military lawyers maintain lighter caseloads than the usual assigned defense attorney so that we can focus on each trial separately. Your case will not be delegated to a random attorney and we will not power you into a guilty plea at the eleventh hour. Our court martial lawyers have defended military court martial and administrative separation (ADSEP) cases in the United States and worldwide.
New Bern, NC Court Martial Lawyers
Our aggressive court martial attorneys will use our history to defend your court martial or administrative separation case in New Bern, NC.
Call today to consult with a hard-hitting court martial attorney.
Service members stationed in New Bern, NC deserve the best military defense attorneys possible to defend them at their trial or administrative separation proceeding.
If you or a loved one are stationed in New Bern, NC and are suspected of a military offense such as sexual assault or if you are confronted with an admin separation, NJP, show cause board, letter of reprimand, then contact our court martial defense lawyers today.
Click here for military law resources: CAAF Website – SCOTUSblog
New Bern, NC – A major attraction to visit
New Bern, NC lying on the eastern side in the Craven County of North Carolina is one of the most densely populated counties. Having a total population of over 30,000 and located at a meeting point of the Trent and Neuse rivers, this city is home to spectacular historical monuments and a major tourist attraction around the world. It covers an area of 76.9 square km and its density of population is 413.6 persons per square km. The two rivers connect to the Intracoastal Waterway and are popularly known as the Crystal Coast because of crystal clear and blue waters. It hosts a number of spectacular beaches in a very close proximity of New Bern, NC, the closest being Atlantic Beach which can be reached in just 40-45 minutes by car.
History and Attractions
This city inherited its name from Switzerland capital, Bern and was mostly occupied by Swiss and German immigrants in the beginning of 1710 and was the major colony of the American-European before the American Revolution. It is the second oldest town of North Carolina, a fact not known by many. It was also the home to American native tribe Tuscarora for many years. New Bern, NC has a remarkable historical background of more than 300 years and after the completion of Tryon palace construction in 1770, it served as the first capital of NC. It is an origin place of Pepsi Cola, a drink that was invented by a pharmacist of New Bern, NC Caleb Bradham in 1898. Apart from the Tryon Palace, there are a number of churches with beautiful and spectacular architecture and stories behind them. US Route 17 and US Route 70 are the major highways running through the city and connecting major places. The cars and bikes are easily available on rent for ease of visitors throughout the year.
Known as the cultural hub, there are a plethora of water and outdoor activities that one can indulge in. It has a rich culture of art, culture, photography, music, symphony and theatre activities mostly occupying weekend programs. Located at short distances there are parks, beaches, cruises and nature centers that suits the likes of everyone. Fort Macon is a major attraction that houses a beautiful museum and it is a well maintained park. North Carolina Aquarium is a reservoir of rich aquatic resources and is very famous with kids and families. Other family outlets like Creekside Park and Union Point Park are a must to visit. The Gazebo, a major place for events and weddings offers a spectacular water view of the great Atlantic Ocean and is located at the nexus of Neuse and Trent River spread over six acres.
Military Details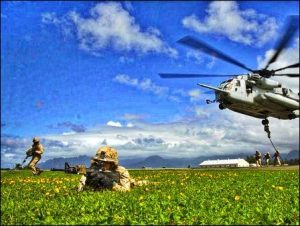 New Bern, NC is an ideal destination for military personnel and their families as it has a number of military bases near it. The civilians have formed well-disciplined communities to support military lifestyle. MCAS Cherry point located at distance of just 20 minutes is a major military base that spawns over an area of approximately 13,000 acre. It is ranked as one of the most updated and best prepared marine base that is ready to counter attack anytime and anywhere and hosts a spectacular air show every year. Another base is Camp LeJeune, one of the largest marine bases of USA in Jacksonville, another 35 mile distance from it.
Most of the personnel serving in Camp LeJeune chose to dwell in New Bern, NC due to better living facilities like healthcare, school, and colleges. Close to this is the MCAS New River, the main helicopter operating and training facility since 1954. The area around New Bern NC has seen a significant growth in military establishment in the past 7 -8 years under the Special Operations Command and Grow the Forces initiatives and employ a total of 14,000 military and civil personnel in the eastern region itself.