By MONI BASU
20 October 2007
Winder soldier sentenced to 120 days in death of Iraqi civilian
\In a move that surprised the entire court, a Georgia soldier accused of murder took the stand to give his account of an alleged war crime committed in Iraq earlier this year.
Spc. Christopher P. Shore, 25, of Winder, said he had no intention of killing an Iraqi detainee, even after his platoon leader, Sgt. 1st. Class Trey A. Corrales, yelled out an order to "finish him."
"I did not kill that man," Shore said in an unsworn statement before an Army investigating officer in an Article 32 hearing, the equivalent of a Grand Jury investigation.
Meanwhile, Corrales, whose Article 32 hearing was to start Monday, waived his rights for that hearing Friday, his attorney Frank Spinner said.
Spinner said the same witnesses would be called to testify and he did not see the need to "drag everyone back up there."
"It would be deja-vu," he said. "Sergeant Corrales maintains his innocence. We will be contesting the charges if they go forward."
Maj. Gen. Benjamin Mixon, commander of the Hawaii-based 25th Infantry Division, in which Shore and Corrales serve, will determine in the next few weeks whether the Army will forge ahead with courts martial.
Shore's attorney, Michael Waddington of Augusta, said Shore's statement at his hearing was not given under oath so that he could not be cross-examined by prosecutors. His statement also cannot be used to incriminate him.
The Army accuses Shore, a graduate of Winder-Barrow High School, and Corrales, 34, a native of San Antonio, of premeditated murder, a crime that carries a maximum penalty of death.
In Thursday's morning-to-dusk hearing, Waddington painted Corrales as an intimidating, power-hungry warrior not unlike the sadistic sergeant in the 1986 movie "Platoon."
He said Shore recognized Corrales was out of control and intentionally missed the wounded man lying on the ground. He said his client was framed by Corrales and is taking the fall for a crime he did not commit.
Shore's scout platoon in Headquarters and Headquarters Company, 2nd Battalion, 35th Infantry Regiment, were called out to assist in an ongoing raid June 23 in the northern Iraqi city of Kirkuk.
Several soldiers testified Thursday that Corrales ordered them to shoot every male of fighting age and spare only the women and children, an order they did not follow.
Shore's platoon detained several men and tested their hands for explosives. Spc. Franklin Hambrick and Spc. Trinity Ison testified that Corrales threatened to kill all the men who tested positive.
"I didn't think he was going to do it," Ison said.
Hambrick said Corrales told one of the detainees to run but the man didn't understand English so Corrales ordered the interpreter to say it in Arabic.
The man began backing up when Corrales raised his own weapon. Hambrick said that's when it sank in that something bad might happen.
Waddington argued that Corrales shot the man in the backyard of the house. He said Shore heard the shots and went outside and saw the injured man lying in a drainage ditch next to a small shed made out of mud. Blood was easily visible against his white dishdasha or tunic. His right arm was mangled, Shore said.
Shore, an expert marksman, said he fired off a few rounds in the dirt, purposely missing his target.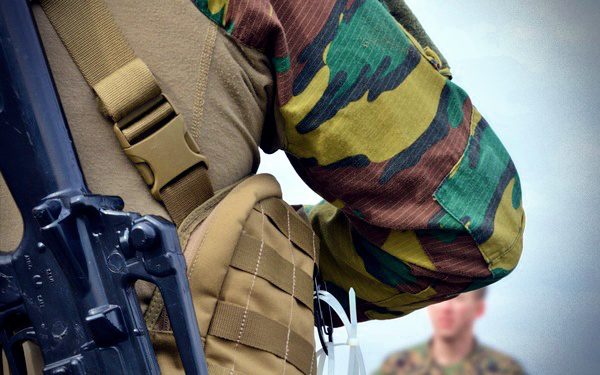 "It was quick-decision stuff in my eyes to diffuse the situation," Shore told the court. "After that happened I remember the first thought that popped up in my head . . . 'Why wouldn't he just finish the dude himself?' He had to have been trying to get me involved."
In and interview Wednesday night before the hearing began, Shore described the incident as a "worst-case scenario of being at the wrong place at the wrong time."
Prosecutors argued that two facial wounds sustained by the Iraqi man came from Shore's M-4 rifle. They questioned Sgt. 1st Class Dennis Bulham, who said he ran out after he heard the first round of shots and flashed a white light on the injured man. He was pleading for help, Bulham said.
He said he did not see the facial wounds until the second time he ran out there — after Shore fired his two rounds.
"All the shots contributed to his demise," said Maj. Todd Villines, a cardiologist and internist who treated the man in a combat hospital before he died two days later.
Waddington argued that based on where Shore was standing, he would have had to fire at close range. He questioned Villines about stippling or gunpowder residue that would have embedded in the man's skin at such close range.
"We examined the wounds and did not see evidence of stippling," Villines said. "He was not shot at close range."
With the help of a mannequin's head and his fellow military counsel, Maj. Javier Rivera, lying on the courtroom floor, Waddington set out to prove that Shore could not have shot the detained man.
He argued that the angle of the exit wounds showed that the man was shot while still standing up, not lying on the ground.
Prosecutor Capt. Duane Kees said Shore's initial statements to Army investigators and to his fellow soldiers contradicted what he said at the Article 32 hearing. Kees said Shore initially maintained that he didn't know whether he hit the man. He said Shore wanted to advance in the Army and shot the man "because he wanted to look good" for Corrales.
Waddington argued Shore is a solid soldier who never displayed hysterical behavior. At the same time, he painted Corrales as an intimidating leader who displayed bi-polar traits: calm one minute and a raging maniac the next, much like Staff Sgt. Bob Barnes, the movie character played by Tom Berenger in "Platoon."
In the 1986 film, a crazed Barnes orders the illegal killings of Vietnamese villagers after his unit, also in the 25th Infantry Division, suffers casualties.
The week before the killing in Iraq, U.S. soldiers, whom Corrales knew, were killed after a bomb hit their Humvee.
Waddington said he believed Corrales wanted revenge for his comrades' deaths..
"This case is strikingly similar to the movie 'Platoon' where Sergeant Barnes intimidated the entire platoon and pulled them apart," he said.
Sgt. David Morgan-Benford, testified that Corrales had given shoot-to-kill orders on previous missions.
Ten soldiers — almost half the platoon — died in a Black Hawk helicopter crash in August. Several were supposed to have been witnesses at the Article 32 proceedings. Shore said he felt his fellow soldiers were still afraid to talk about Corrales, who faces his own Article 32 hearing on Monday.
"They were put on the spot," Shore said, visibly emotional after taking the stand.
Corrales' attorney, Frank Spinner, spent the entire day listening to testimony but declined comment on the portrayal of his client.