Aggressive Fort Polk, Louisiana Military Defense Attorneys
Experienced Fort Polk Court-martial Defense Attorneys
When You Need a Civilian military defense Counsel in Fort Polk
We have successfully defended and exonerated American Military service members working around the world. View our court-martial experience with different civilian defense counsel.
The unrelenting military criminal defense counsel at Gonzalez & Waddington have developed a name for defending US service members at bases such as Fort Polk. For example, suppose you are at Fort Polk and are charged with a military violation. In that case, retaining the most hard-hitting military defense attorneys can be the difference between getting locked up versus winning your case or saving your career. Our military attorneys aggressively advise Fort Polk American armed forces personnel in UCMJ and administrative cases: Sexual crimes, Death or Injury of an Unborn Child – Article 119a, UCMJ, Forcible Pandering, Larceny & Fraud, or Communicating Threats – Article 115, UCMJ.
Contact Our Aggressive Fort Polk Civilian Military Defense Legal Team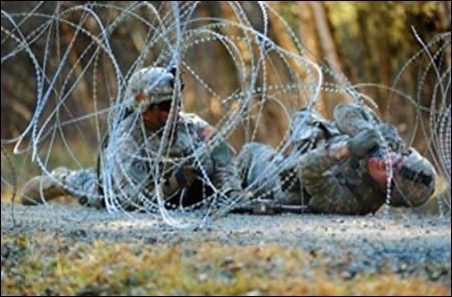 Unlike many criminal defense attorneys or your appointed Army, Navy, Air Force, or Marine Corps defense counsel, pleading out is not something we commonly do. When our defense law firms take a new client, our military counsel makes the opposing counsel present all the evidence and prove their case beyond a reasonable doubt. We take almost every allegation to a trial and fight the allegations in front of a military jury.
Whether you are dealing with a trial for Sexual assault, Manslaughter – Article 119, UCMJ, Indecent exposure under Article 120c, UCMJ, Malingering – Article 83, UCMJ, or Missing Movement; Jumping from Vessel – Article 87, UCMJ our criminal defense lawyers' jury trial results should be compared with other court-martial defense counsel. The defendant and his or her desired outcome is our primary concern we take on an allegation. Our military defense lawyers maintain smaller caseloads than the usual free military defense lawyer to focus on each case separately. Your case will not be outsourced to a random attorney, and we will not coerce you into taking a dive at the eleventh hour. Our military criminal defense counsel has contested military court-martials and administrative separation hearings in the US and worldwide.
Fort Polk, Louisiana Criminal Defense Lawyers
Lawyer Alexandra González-Waddington, has fought for countless US Military service members charged with Article 120 crimes and has painstakingly worked on some of the most severe war crime cases from the Iraq and Afghanistan wars. Alexandra co-authored three leading legal guides on cross-examination, Pattern Cross-Examination for Sexual Assault Cases: A Trial Strategy & Resource Guide, Pattern Cross-Examination for DNA and Biological Evidence, and Pattern Cross-Examination of Expert Witnesses, published by NACDL.
Contact us today to speak with our hard-hitting military criminal defense attorneys.
Military service members living at Fort Polk, Louisiana, merit relentless defense counsel to advise them at their military trial or administrative separation hearing. If you or a family member are stationed at Fort Polk, Louisiana and are accused of a UCMJ offense such as Sexual crimes, Maiming – Article 128a, UCMJ, Forcible Pandering, Breach of Medical Quarantine – Article 84, UCMJ, or Straggling – Article 134, UCMJ or if you are sent to a non-judicial punishment then call our fierce criminal defense lawyers today.

Overview of Fort Polk
Fort Polk, named after Confederate Lt. Gen. Leonidas Polk, who fought during the Civil War, is located in Vernon Parish in central Louisiana and was opened in August 1941. Soldiers from World War II and Vietnam recognize Camp Polk, named after Confederate Lieutenant General and Bishop Leonides Polk.
Fort Polk became the home of the Warrior Brigade, which included several combat support units. After the Berlin Crisis in 1941, the post was permanently reactivated and converted into an infantry training center in 1962. The base was selected to provide advanced combat training to prepare soldiers for the upcoming Vietnam War. Fort Polk was an army base for basic combat exercises in the 1960s and 1970s, before the war.
During the Vietnam era, the fortress was a training ground for troops advancing into the war zone. Part of the land around the base became known as Tigerland, which was ideal for training troops for what to expect in Vietnam. Training sessions helped the Army to test new combat doctrines, and sixteen tank divisions are said to have been created.
During this time, the 1st battalion, the 40th armored regiment, participated in training exercises with the Louisiana Army National Guard and the 5th infantry division units. Most units rotated through Fort Polk in 1952-54 to train for combat with the 37th Infantry Division and the Ohio Army National Guards. Many soldiers who signed up at Fort Polk for basic training remained at the post for infantry training at Tigerland before being sent to infantry companies in Vietnam.
Fort Polk Joint Readiness Training Center (JRTC) contains the 4th Brigade, 10th Mountain Division, 115th Combat Support Hospital, 1st Maneuver Enhancement Brigade, 162nd Infantry Brigade, and US Army Garrison Bayne-Jones Army Community Hospital. The 2nd Army – Cavalry Regiment, which Fort Polk in the 1990s considered home, rolled under its flag during the move to Fort Lewis and was handed over to the new Stryker – Brigade of the US Army. Fort Polk Joint Readiness Training Center (JRTC) with the 3rd Brigade Combat Team, 10th Mountain Division, 115th Battle Support Hospital, 1st Maneuver Extension Brigade, and US Army Community Hospital Garrison Bayne-Jones.
Fort Polk Determined Court-martial Defense Lawyers
The Joint Readiness Training Center (JRTC) is one of the Department of Defense's most important training facilities, and Fort Polk has undergone a tremendous transformation to continue to fulfill the mission of the JRTCs and Fort Polks as a combat training center, projection platform, and modern facility to support our soldiers and families. Fort Polk also supports the War on Terror by providing contingent training for Army light infantry and Special Operations forces that serve as home bases for reserve components in support of Operation Enduring Freedom, Noble Eagle, and Iraqi Freedom. Additionally, the US Army Garrison provides support installation for Power Projections and Combat readiness missions for tenant units, JRTC Rotation Units while providing quality services and facilities while optimizing available resources to preserve our environment and improve the overall well-being of the Fort Polk community.
Like other US Army facilities, Fort Polk aims to train individual soldiers to sharpen the potential of competent leaders that can engage in conflict and protect the nation from security threats. Current operations at Fort Polk include a continuous focus on the role of the Joint Readiness Training Center, which Army officials and sources say is focused on improving unit readiness through realistic and burdensome Joint and combined weapons training for the full range of current and future conflicts. In addition, the Louisiana Army National Guard maintains maintenance facilities at the base for its critical units, the Combat Team of the 256th Infantry Brigade and the 225th Engineer Brigade.
Fort Polk is a Louisiana. Army base located at Vernon Parish, Leesville, Louisiana, United States. Army and the Joint Response Training Center. Fort Polk supports the war against terrorism today by delivering emergency training to Army Special Operations Forces and Light Infantry Brigades. The JRTC is one of the top training facilities of the Defense Department, providing high-level joint training for Army, Active and Reserve Components, Air Force, and Navy for contingency operations, tactical operations, and realistic conditions for low- and medium-intensity combat.
The Department of Defense is very sensitive to the country around the post and spends a lot of money and effort to preserve the land. A search of the base and training center has uncovered an inventory of thousands of archaeological sites in the immediate vicinity where the army trains. Fort Polk is a US Army facility in Vernon Parish, about ten miles south of Leesville, Louisiana, and thirty miles north of Deridder, Beauregard Parish, Louisiana. The base is one of the facilities of the US Army named after Confederate soldiers and renamed by the Department of Defense Commission for the Naming of Objects to honor the Confederate States of America and the individuals who served in the Confederacy.
The Fort Polk Museum located on Mississippi Avenue on Highway 171 is the perfect place for parents and children to learn more about Fort Polk Army Base and the stories of the past – filled with hundreds of artifacts, photos, and outdoor vehicles detailing how military personnel prepared for armed conflict in various theaters. Learn more about the Louisiana Maneuver, a series of exercises that soldiers participated in before Camp Polk was deployed to Allied forces during World War II. You will also get interesting insights into the Vietnam war when more than a million infantry units arrived at Fort Polk and the transition to the battlefields of Southeast Asia.
The modular Army created at Fort Polk began to offer more training time, a more extensive work schedule, and a continuous supply of manpower to civilian agencies and commanders. Hier, you will find information about Fort Polk, Louisiana, including the primary commercial DSN number for the base, information about essential services, basic transportation, lodges, TDY, PCS, personnel processing, etc.
Military law forms the backbone of the military's legal system and applies to all active duty, national guard and reserves, and retired armed forces personnel across all branches. If you or someone close to you has been charged with a crime under the UCMJ, you must turn to military defense lawyers for help right away. Find an implacable court-martial defense lawyer at Gonzalez & Waddington. As a former member of the US Army's Judge Advocate General's Corps (JAG), determined court-martial defense counsel, Michael Waddington has a proven track record of defending Fort Polk, Louisiana American armed forces personnel in both criminal and non-judicial cases.
Louisiana Military Defense Lawyers
It is crucial for Fort Polk, Louisiana American Military personnel to know their rights. American Service members have the right to be represented by a military defense attorney, so don't wait to contact military criminal defense attorneys like those at Gonzalez & Waddington, Attorneys at Law. To start fighting your charges, today call the experienced criminal defense attorneys at Gonzalez & Waddington to set up a free case review with one of our military criminal defense attorneys.
Fort Polk, Louisiana Defense Attorneys
Our aggressive military criminal defense lawyers at Gonzalez & Waddington will arrange free counseling to discuss your allegations in detail and explain how they will fight your case, which is different from most military attorneys. Use the contact form contact our determined military lawyers at Gonzalez & Waddington for legal advice. Call to speak to our hard-hitting court-martial lawyers at Gonzalez & Waddington.
Click here for: Closing Arguments Examples
Criminal lawyers Michael Waddington & Alexandra Gonzalez-Waddington have extensive experience handling all types of criminal charges, ranging from Sex crimes, Murder– Article 118, UCMJ, Aggravated Sexual Contact, Breach of Medical Quarantine – Article 84, UCMJ, or Assault of Superior Commissioned Officer – Article 89, UCMJ.

Our hard-hitting court-martial defense counsel at Gonzalez & Waddington use their training to prepare a solid legal defense against serious charges in federal, military, and state courts.
Experienced Fort Polk, Louisiana Civilian Military Defense Law Firm