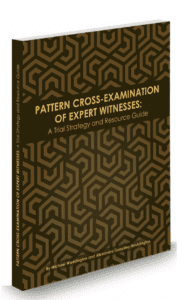 In a criminal trial, cross-examination of the prosecution's forensic expert may make the difference between victory or defeat. More and more, aggressive prosecutors are relying on forensic psychiatrists, toxicologists, and other experts to help obtain convictions. Some expert witnesses will do whatever it takes, including misapplying scientific research to bolster the prosecution's case. For the sake of justice, defense lawyers must be able to cross-examine and nullify forensic experts effectively.
In the second Bill Cosby trial and Harvey Weinstein's New York trial, both sides prominently used forensic experts. In these cases, counterintuitive victim behavior experts played a vital role in the prosecution's trial strategy. This book will help defense lawyers neutralize such experts.
"
Pattern Cross-Examination of Experts
is an easy-to-follow, practical guide to arm the advocate against an often intimidating adversary-the opposing expert. This inspired and meticulously crafted how-to guide more than levels the playing field by presenting an easy and consistent path to an effective dismantling of the expert's opinion in virtually every context." 
"The power of the techniques in this book are exceeded only by the voluminous examples of succinct questions on just about every key topic you will encounter in trial. This is a step-by-step playbook to effective lawyering when you are in battle."
"Michael Waddington and Alexandra González-Waddington have done the criminal defense bar a favor by composing required reading and resource material for young and experienced trial lawyers alike. This comprehensive book belongs on the bookshelf of all criminal defense practitioners."  
NACDL's Pattern Cross-Examination of Expert Witnesses will assist criminal defense practitioners in scoring points when cross-examining forensic experts. This resource contains thousands of questions that will help defense lawyers cross-examine challenging witnesses, using scientific research, without having to reinvent the wheel with each new case. It contains pattern questions that can be used to dominate prosecution experts and level the playing field at trial, and the sample cross-examination questions can be easily modified and used in a variety of cases. The questions provided serve as a starting point. Because every case is different, the cross-examiner should modify the questions based on the facts of their case. This Trial Guide is not a textbook on the theories of cross-examination. Instead, it provides sample questions based on fact patterns commonly encountered when dealing with forensic experts in a variety of trials.
There are hundreds of citations included for scientific research, so lawyers can readily impeach opposing experts using the learned treatise exception.
View Sample Pages Here: http://bit.ly/2WcjohZ
This book will assist in the cross-examination of:
forensic psychiatrists/psychologists;
social workers;
as well as experts in child abuse, assault, and sex crimes.
Includes Chapters on:
CHAPTER 1: Dealing With Hostile Witnesses
CHAPTER 2: Counterintuitive Victim Behavior
CHAPTER 3: Alcohol: Memory & Consent
CHAPTER 4: Memory & Perception
CHAPTER 5: False Confessions
CHAPTER 6: Child Memory
CHAPTER 7: Confabulation (Memory Error)
CHAPTER 8: False Allegations of Sexual Assault
CHAPTER 9: Borderline Personality Disorder
CHAPTER 10: Strangulation
CHAPTER 11: Bruising & Dating Bruises
CHAPTER 12: Cognitive Dissonance & Sexual Assault
About the Authors:
Michael Waddington is a criminal defense lawyer who has successfully defended cases in courtrooms around the world, including Japan, South Korea, Germany, Iraq, Bahrain, Italy, England, and across the United States. He has been involved in some of the highest-profile court-martial cases resulting from the "War on Terror" to the "War on Sexual Assault," and has been reported on and quoted by hundreds of major media sources worldwide.
Mr. Waddington is the author is the book Kick-Ass Closings: A Guide to Giving the Best Closing Argument of Your Life. He is co-author of the book, Pattern Cross-Examination for Sexual Assault Cases: A Trial Strategy & Resource Guide, published by the National Association of Criminal Defense Lawyers (NACDL). He also authored the Amazon bestseller, The Art of Trial Warfare: Winning at Trial Using Sun Tzu's The Art of War.
He has provided consultation services to CNN, 60 Minutes, ABC Nightline, the BBC, CBS, and the Golden Globe winning TV series, The Good Wife. He appeared in a major CNN documentary, Killings at the Canal, and some of his cases have been the subjects of books and movies, including the Academy Award-winning documentary, Taxi to the Dark Side, the 2013 documentary, The Kill Team, and the books The "Good Soldier" on Trial, and Brian De Palma's Redacted.
Since 2013, Mr. Waddington has been an annual contributor to the American Bar Association's publication, The State of Criminal Justice. He is a Life Member of the NACDL and a Fellow of the American Board of Criminal Lawyers (ABCL).
Alexandra González-Waddington is a founding partner of the González & Waddington Law Firm, and a Georgia Registered mediator. She has represented and defended hundreds of defendants charged with sexual crimes and has worked on some of the most notorious war crime cases stemming from the Iraq and Afghanistan wars. A former Public Defender in the State of Georgia, Alexandra has worked on various types of cases, including rapes, larcenies, and white-collar crimes. She graduated from Temple Beasley School of Law in Philadelphia, PA where she successfully completed Temple's Nationally ranked Integrated Trial Advocacy Program.
She is co-author of the book, Pattern Cross-Examination for Sexual Assault Cases: A Trial Strategy & Resource Guide, published by the National Association of Criminal Defense Lawyers (NACDL). From 2015 through 2020, she wrote chapters in the American Bar Association (ABA) books, The State of Criminal Justice. This annual publication examines major issues, trends and significant changes in the criminal justice system and is one of the cornerstones of the ABA's Criminal Justice Section's work. This publication serves as an invaluable resource for policy-makers, academics, and students of the criminal justice system.