"We aren't in class anymore! Kick-Ass Closings is written from the trenches, by trial lawyers who actually try cases, and win. If you want to be a closer, you need this book."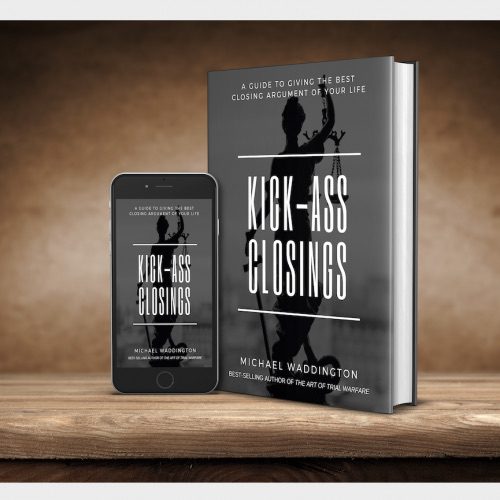 Miami, United States – November 29, 2018 —
A criminal defense attorney, Michael S. Waddington's latest work is a powerful resource for new and experienced criminal defense lawyers, Kick-Ass Closings: A Guide to Giving the Best Closing Argument of Your Life.
Written to provide lawyers with the firepower to deliver devastating closing arguments with minimal prep time, this book contains 310 closing argument snippets from dozens of jury trials. Some of those arguments feature legendary lawyers and high-profile trials such as Johnnie Cochran representing O.J. Simpson, Jose Baez representing Casey Anthony, and Thomas Mesereau representing Michael Jackson.
Kick-Ass Closings provides a simple and straightforward template that can be used in any criminal trial and hundreds of sample closing arguments that can be crafted to fit the facts of any case. The book is offered in a print and Kindle version, exclusively on Amazon.com.
"I designed this book so that defense lawyers can deliver world-class closing arguments in any type of criminal case, without having to reinvent the wheel. This book contains contributions from seventeen lawyers with over 500 years of combined trial experience. There is no doubt that Kick-Ass Closings will help lawyers of all levels deliver more effective arguments and win more trials," Waddington explained.
Proper usage of this book can save time and increase the power and effectiveness of closing arguments.
The book includes dozens of quotes and parables that can drive key points home, along with a comprehensive table of contents that allows one to quickly locate and utilize relevant arguments. Also included are charts and diagrams that visually demonstrate concepts such as Proof Beyond a Reasonable Doubt, Mistake of Fact, Self-defense, and others.
Michael Waddington is a criminal defense lawyer who has successfully defended cases in courtrooms around the world, including Japan, South Korea, Germany, Iraq, Bahrain, Italy, England, and across the United States. He has been involved in some of the highest-profile court-martial cases and has been reported on and quoted by hundreds of major media sources worldwide.
He is also the best-selling author of The Art of Trial Warfare: Winning at Trial Using Sun Tzu's The Art of War, Pattern Cross-Examination for Sexual Assault Cases, and Trial Warrior's Book of Wisdom. He has provided consultation services to CNN, 60 Minutes, ABC Nightline, the BBC, CBS, and the Golden Globe-winning TV series, "The Good Wife." He appeared in a major CNN Documentary, "Killings at the Canal," and some of his cases have been the subject of books and movies, including the Academy Award Winning Documentary, "Taxi to the Dark Side," and the 2013 documentary, "The Kill Team."
Since 2013, he has been an annual contributor to the American Bar Association's (ABA) publication, "The State of Criminal Justice." He is also a fellow of the American Board of Criminal Lawyers (ABCL).
Click here to preview and purchase the book: http://www.amazon.com/dp/1727642570/
What they're saying about Kick-Ass Closings
"We aren't in class anymore! Kick-Ass Closings is written from the trenches, by trial lawyers who actually try cases, and win. If you want to be a closer, you need this book."
–Tim Bilecki, Bilecki & Tipon, LLLC
"Kick-Ass Closings should be mandatory for every law student who wants to call her or himself a trial lawyer. Practicing lawyers will find the stories and insights great food for thought and non-lawyers will love it as it gives a keen insight into both the art and science of presenting to and persuading people."
–Mark O'Mara, O'Mara Law Group
"This work defines the structure, the content, the interplay of other aspects of the trial, and the means by which successful lawyers maintain their champions of justice status. Simply put, own and use this great collection – your skill level will increase exponentially."
-James A.H. Bell, The Law Offices of James A.H. Bell
"Phenomenal resource for lawyers young and old! When you know a not guilty is within reach – the wisdom in this book will inspire and guide you to giving the best closing of your life!"
-Brian Bieber, GrayRobinson, P.A.