At the National Trial Lawyers Summit, firm partners, Michael Waddington and Alexandra González-Waddington, lectured to hundreds of the top trial lawyers from across the United States. The Summit took place February 5-8, 2017 at the Loews Miami Beach in South Beach, Florida.
For the 4th year in a row, The Trial Lawyer magazine has rated the Trial Lawyers Summit "The #1 Conference of the Year." The Summit is the ultimate trial advocacy conference taught by an all-star team of trial lawyers.
Michael spoke and held a book signing during the Summit. His lecture, A Trial Warrior's Journey, taught lawyers how to develop the character, skill, and mindset of a winning trial warrior.
Mr. Waddington's lecture was part of the summit's main event, titled Trial Practice Takes Miami by Storm. The event featured legendary attorneys F. Lee Bailey (one of OJ Simpson's lawyers), Mark Geragos (who defended Michael Jackson, Chris Brown, and other celebrities), and Mark O'Mara (George Zimmerman's lawyer).
Mr. Waddington also held a signing of his bestselling book, The Art of Trial Warfare: Winning at Trial Using Sun Tzu's The Art of War, alongside fellow attorney/authors F. Lee Bailey, Alan Dershowitz, and Mike Papantonio.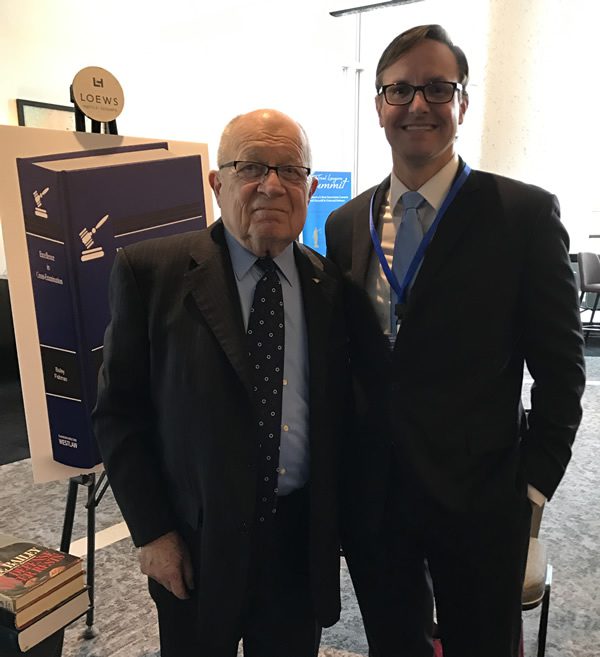 Alexandra's lecture, Appealing to Diverse Juries Without Building Walls, taught trial lawyers how to effectively select and communicate with diverse juries in criminal and civil cases. Relying on the firm's jury trial experience and academic studies, Alexandra demonstrated how picking a jury based on stereotypes can lose cases, while excellent Voir Dire can help win cases.
The Trial Lawyers Summit is an annual gathering of the most outstanding civil plaintiff and criminal defense attorneys in America. It was created by The National Trial Lawyers to bring its members together to share ideas and learn new ways of improving their skills in the courtroom, as well as and better ways of managing and marketing their law firms. It was first held in 2012 in South Beach, Florida and has grown in attendance and stature with each successive event.
Outstanding networking opportunities started with a Super Bowl 51 kick-off party, then continued with keynote speaker, NFL legend Joe Montana, at The Trial Lawyer Awards Luncheon and a reception with live entertainment by Don Felder, formerly of The Eagles!
2017 NTL Summit Benefits
An AMAZING lineup of over 60 of the nation's top speakers covering the latest trends, new case types and topics.
Get new referrals! Engage with America's most influential and respected trial lawyers on major projects of interest.
Words of Wisdom from The Trial Lawyer Hall of Fame—Gain insight from top trial lawyers in American history.
Sunday, February 5th, 6:00 p.m.—SUPER BOWL 51 KICK-OFF PARTY with fabulous food and drinks.
Monday, February 6th, 12:15-2:00 p.m.—The National Trial Lawyers Awards Luncheon. This is a "can't miss" event!
Tuesday evening, February 7th—President's Reception—Join NTL President Tom Girardi and President-Elect Christian Searcy with live entertainment by Don Felder formerly of The Eagles!