Discussion of the disqualification – mechanics of panel members
Personal Attack?
In the case of the United States v. Lewis, 63 M.J. 405 (C.A.A.F. 2006).Trial counsel requested military judge's recusal based mainly on an alleged inappropriate professional and social relationship with the accused's civilian defense counsel (CDC).
The military judge denied the Government's recusal motion and defense filed a UCI motion. During testimony on the UCI motion, the SJA alluded that the military judge lied regarding her relationship with the CDC and characterized "the [MJ] and [CDC] being seen leaving a theater together as a 'date.'" Without ruling on the UCI motion, military judge recused herself finding that there was no basis for recusal in fact or appearance but she was unable to remain impartial "following the Government's attack on her character." Another Global Military Justice Reform Blog  military judge was detailed who sua sponte recused himself because "he was so shocked and appalled by the unprofessional conduct of [the TC] and [the SJA] that he was not convinced he could remain objective."
This required detailing two additional military judges to conduct various proceedings which eventually lead to a guilty plea by the accused. On appeal, the N-MCCA held that the actions of the TC and SJA were unprofessional and constituted unlawful command influence but that their actions did not prejudice the accused's court-martial which was tried by two impartial military judges. The CAAF, however, ruled "since the appearance of unlawful influence was created by the Government, achieving its goal of removing [the MJ] without sanction, a rehearing before any [judge] other than [the detailed MJ] would simply perpetuate this perception of unfairness." Findings and sentence set aside and charges dismissed with prejudice.
Financial Interest?
United States v. Reed, 55 M.J. 719 (A. Ct. Crim. App. 2001). The accused pled guilty to conspiracy to commit larceny and to willfully and wrongfully damaging nonmilitary property in a scheme to defraud USAA automobile insurance company. During sentencing, a USAA claims handler talked about fraudulent claims and their effect on the company's policyholder members. The military judge (himself a policyholder member) immediately disclosed his affiliation with USAA and stated this would not affect his sentencing decision. The military judge allowed the defense an opportunity to voir dire, and the DC exercised it.
The military judge also offered the defense the opportunity to challenge him for cause, but the defendant declined. The court, after sua sponte disclosing all judges of the ACCA are also policy holders of USAA, held there was nothing improper or erroneous in the judge's failure to disclose his policy holder status until a potential ground for his disqualification unfolded. Further, it found the military judge's financial interests were so remote and insubstantial as to be nonexistent. See also RCM 902(b)(5)(B) (non-waivable basis for recusal if military judge has financial interest that could be "substantially affected" by outcome of case).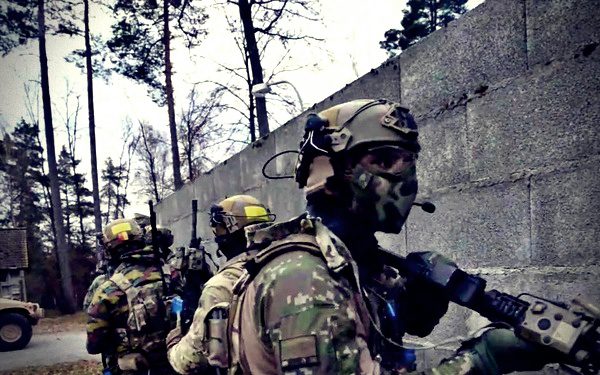 Potential disqualification based on background
United States v. Robbins, 48 M.J. 745 (A.F. Ct. Crim. App. 1998). Military judge who was the victim of spousal abuse 13 years ago before presiding at a trial of an accused charged with battery of his pregnant wife (and intentionally inflicting grievous bodily harm on his wife and involuntary manslaughter by unlawfully causing termination of his wife's pregnancy) did not abuse her discretion in failing to recuse herself. The Air Force court directs military judges to apply a totality of the circumstances type test to resolve recusal matters involving military judges who are victims of the type of offense with which an accused is charged. The court emphasizes that our "national experience" supports a preference for "judges with real-life experiences."
Military judge and accused members of same chain of command
United States v. Norfleet, 53 M.J. 262 (C.A.A.F. 2000). Presence of military judge's superiors in SPCMCA chain of command did not require military judge's recusal under RCM 902. Accused was an Air Force paralegal, assigned to AF Legal Services Agency. Commander, AFLSA, served as director of Air Force judiciary and endorser on military judge's OER. Commander of AFLSA forwarded case (without recommendation) to Commander, 11th Wing (the SPMCA), for disposition. CAAF held that this did not constitute a per se basis for disqualification. In light of military judge's superiors taking themselves out of the decision making process, the full disclosure by the military judge, and opportunity provided to defense to voir dire the military judge, the accused received a fair trial by an impartial judge.
Our Lawyers Defend False Sexual Assault Allegations