Borderline Personality Disorder & False Accusations in Military Sexual Assault Cases
Article 37 says that the convening authority cannot censure the panel members based on their findings or sentence, and no one may not consider a person's service on the panel when preparing evaluation reports or when making assignment decisions.
Through command or commander policy in the deliberation courtroom
United States v. Kirkpatrick, 33 M.J. 132, 133 (C.M.A. 1991). The military judge gave an explicit sentencing instruction on the Army's policy regarding use of illegal drugs: "[H]ere we have a senior noncommissioned officer directly in violation of that open, express, notorious policy of the Army: Through[sic] shalt not [use marijuana]." The court noted that it has long condemned any reference to department or command policies being placed before members charged with sentencing responsibilities. This implicated UCI concerns and constituted plain error which was not waived by the defense failure to object; sentence set aside.
United States v. Stoneman, 57 M.J. 35 (C.A.A.F. 2002). SPCMCA sent an email to subordinate commanders "declaring war on all leaders not leading by example." The email also stated the following: "No more platoon sergeants getting DUIs, no more NCOs raping female soldiers, no more E7s coming up 'hot' for coke, no more stolen equipment, no more approved personnel actions for leaders with less than 260 on the APFT, …., — all of this is BULLSHIT, and I'm going to CRUSH leaders who fail to lead by example, both on and off duty." At a subsequent leaders' training session, the commander reiterated his concerns. After consulting with the SJA, the commander issued a second email to clarify the comments in the first.
The commander stated that he was expressing his concerns about misconduct, but emphasized that he was not suggesting courses of action to subordinates, and that each case should be handled individually and appropriately in light of all circumstances. He specifically addressed duties as a court-martial panel member and witness. At trial, the defense counsel challenged all of the panel members from the brigade based on implied bias and potential for unlawful command influence.
The military judge denied the challenge using R.C.M. 912 as the framework. CAAF remanded for a DuBay hearing, stating that the military judge should have used an unlawful command influence framework to determine the facts, decide whether those facts constituted unlawful command influence, and conclude whether the proceedings were tainted.
United States v. Baldwin, 54 M.J. 308 (C.A.A.F. 2001). Nine months after her court-martial, appellant filed affidavit alleging that the GCMCA conducted OPDs where he commented that officer court-martial sentences were too lenient and stated that the minimum should be at least one year. Appellant also alleged that her court-martial was interrupted by one of these sessions (mandatory for all officers assigned to the installation). The court stated, "We have long held that the use of command meetings in determining a court-martial sentence violates Article 37." The court found that this allegation was sufficient to raise a UCI issue and remanded for a limited hearing.
United States v. Simpson, 58 M.J. 368 (C.A.A.F. 2003). Appellant was convicted of various offenses to include rape, indecent assaults, indecent acts, and maltreatment of trainees at Aberdeen Proving Ground. He contended that he was denied a fair trial because of apparent UCI related to pretrial publicity and official comments related to his case. As support, appellant cited the Army's "zero tolerance" policy on sexual harassment; a chilling effect on the command decision-making process stemming from the Secretary of the Army's creation of the Senior Review Panel to examine gender relations; public statements made by senior military officials suggestive of appellant's guilt; and public comments by members of Congress and military officials regarding the "Aberdeen sex scandal." In preparation for filing motions at trial, the defense counsel interviewed the GCMCA and SPCMCA and cross-examined at trial, and conducted extensive voir dire of the panel members on this issue.
The court held that there was no nexus between the purported unlawful or unfair actions of senior military officials and the convening authority's decision to refer the case. Additionally, there was no nexus between acts complained of and any unfairness at trial and no evidence that court members were influenced to return guilty verdicts because that is what the Army or superiors wanted. CAAF listed several factors that existed in this case that showed that, in this case, the government proved beyond a reasonable doubt that UCI (if it existed) did not taint the proceeding.
United States v. Dugan, 58 M.J. 253 (C.A.A.F. 2003). Junior panel member provided defense counsel with a letter after court-martial detailing her concerns regarding statements made during sentencing deliberations. Panel member alleged that another member reminded the panel that the GCMCA would review their sentence and they needed to make sure they sent a "consistent message." (GCMCA held a "Commander's Call" several weeks before during which drug use was discussed). Defense counsel requested a post-trial Article 39a session. Military judge denied the request. CAAF determined the defense counsel successfully raised unlawful command influence and the Government must rebut the allegation and remanded for DuBay hearing. Of note, CAAF pointed out the limitations in place in questioning the panel members during the DuBay hearing.
United States v. Youngblood, 47 M.J. 338 (C.A.A.F. 1997). Staff meeting at which Wing commander and SJA shared perceptions of how previous subordinate commanders had "underreacted" to misconduct created implied bias among three senior court members in attendance. The court reversed the case because the military judge failed to grant challenges for cause against those members without reaching the UCI issue. The court noted that despite the member's response that they could disregard the comments, it is "asking too much" to expect members to adjudge sentence without regard for potential impact on their careers.
United States v. Martinez, 42 M.J. 327 (C.A.A.F. 1995). Wing commander's "We Care About You" policy letter setting out reduction in grade and $500 fine "as a starting point" for first-time drunk drivers was clearly UCI, notwithstanding letter's preface that "punishment for DWI will be individualized." However, the defense counsel was able to conduct extensive voir dire of the panel members and the military judge gave a proper curative instruction, so UCI was harmless beyond a reasonable doubt.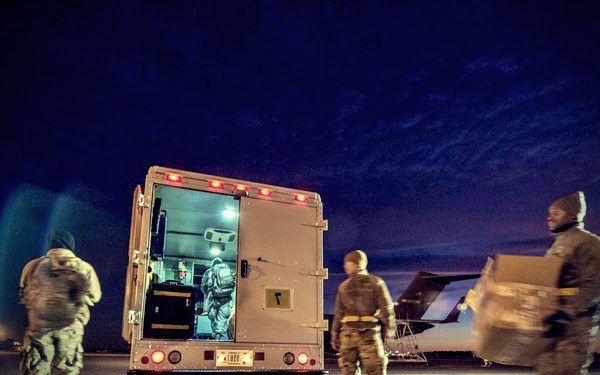 United States v. Pope, 63 M.J. 68 (C.A.A.F. 2006). Appellant was an Air Force recruiter involved in unprofessional conduct with prospective applicants. The Military Judge admitted (over defense objection) that this was injecting command policy into the deliberation process) a letter offered by the government at sentencing which argued Air Force core values and endorsed "harsh adverse action" for those who committed recruiter misconduct. CAAF held that admitting the letter (especially without a limiting instruction) raised the appearance of improper command influence because it conveyed the commander's view that harsh action should be taken against an accused. CAAF was not convinced beyond a reasonable doubt that the members were not influenced by the letter. The sentence was set aside with a rehearing authorized.
United States v. Reed, 65 M.J. 487 (C.A.A.F. 2008). In support of an unlawful command influence motion, appellant introduced an email from the convening authority to his subordinates addressing a variety of command management issues and containing a thirty-one page slideshow. One slide contained the following statement: "Senior NCO and Officer misconduct – I am absolutely uncompromising about discipline in the leader ranks." Some noted examples included: "BAH Fraud, Fraternization, DUI, Curfew violations, Soldier abuse, Sexual misconduct."
The appellant was charged with BAH fraud. Later, the CA, upon SJA advice, issued a clarifying email. The military judge allowed the defense to fully litigate the issue. The other convening authorities in transmittal chain testified that they had exercised independent judgment, and the military judge allowed extensive voir dire of the panel members. CAAF held that the government met its burden of demonstrating beyond a reasonable doubt that the proceedings were not affected by actual unlawful command influence or the appearance of unlawful command influence.
United States v. Ayers, 54 M.J. 85 (C.A.A.F. 2000). The appellant engaged in misconduct with a trainee at Fort Lee about the same time that the trainee abuse scandal at Aberdeen Proving Ground was happening. He filed a UCI motion based on the news coverage that accompanied the Aberdeen Proving Ground incidents, saying that the senior leaders comments associated with that scandal and others around the country would also affect his trial, or at least cause the perception of UCI at his trial. Here, the court could find no facts that connected any of that coverage to his actual trial, so the appellant failed the first Biagase factor.