Pfc. Corey Clagett believed the matter had been resolved.
After two internal inquiries into a mission that had taken place in northern Iraq on May 9, the 22-year-old and three other soldiers from the 3rd Battalion of the 101st Airborne Division expected to return to their duties without a stain on their characters.
Within a month, however, three of the four had been arrested, accused of premeditated murder, and placed in a U.S. military jail in Kuwait.
On Tuesday the four appeared before an Article 32 hearing that would determine whether they should be court-martialed. If found guilty, they could face the death penalty.
From 'Hero' to Prisoner
Speaking by telephone from his prison cell, in an exclusive interview with "Nightline," Clagett defended his actions and expressed anger toward the military for pressing charges against him.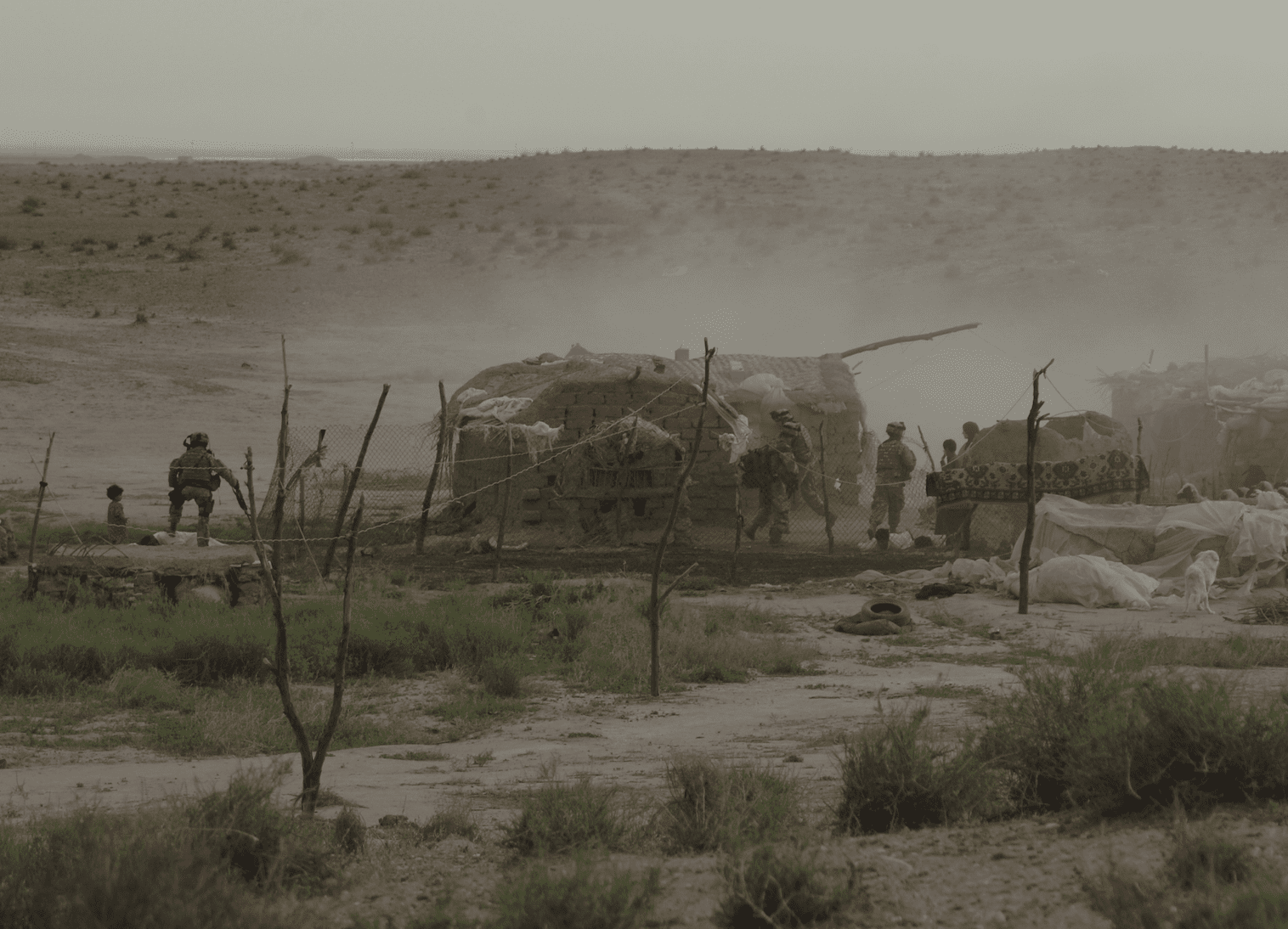 "I was trained to do the right thing," he said, "and I did do that. And it's like I was a hero one day — and I was being treated like that one day — and now I'm in a prison facility in Kuwait."
The transition became all the more astounding when it emerged that his accusers were not from the Iraqi populace but from his own battalion — the tightly knit and fiercely loyal "band of brothers."
Clagett, along with Sgt. Raymond Girouard and Spc. William Hunsaker — all members of the Fort Campbell, Ky.-based 3rd Battalion — have been accused of deliberately releasing three Iraqi men they had captured, in order to kill them.
Another soldier, Spc. Juston Graber, has admitted to carrying out the "mercy killing" of one of the detainees after the initial shooting.
Clagett, Girouard and Hunsaker, however, vigorously deny the charges, saying that they only fired after the Iraqis broke free and started to attack them.
Rules of Engagement: 'Kill All Military-Age Males'
The truth of what happened on that morning in May has become the subject of bitter dispute between former comrades who will find themselves on opposite sides of the ongoing military court proceedings.
The mission itself, like most combat tasks in remote areas of Iraq, was dangerous and intense.
According to Clagett, the briefing was clear.
"I was told that we were going into an al Qaeda and an anti-Iraqi force training area. And that when we were coming in, I was to expect fire. … Before we got on the ground, they were gonna shoot at the birds. They said we were gonna go in hot."
In their sworn affidavits, the three accused soldiers, along with others in the unit, said they received unusual but unequivocal rules of engagement for the task ahead. They said that they were given repeated and explicit orders to "kill all military-age males."
From his prison cell, Clagett explained how they prepared for the mission.
"We did rehearsals on the 8th of May and … it got passed down to my lieutenant commander and he told us and then my platoon leader and my lieutenant he told us, then the platoon sergeant told us, then the squad leader told us. It was just relayed through chain of command."
What were they told?
"We were told that everybody on this island was hostile," Clagett said. "They were known al Qaeda insurgents, and we're going to kill all military-age males, so be prepared."
NIGHTLINE: So you were told specifically to kill all military-age males?
CLAGETT: Correct.
NIGHTLINE: Were you ever told on any other mission that you were to kill all military-age males? Did that ever happen before this event?
CLAGETT: No.
NIGHTLINE: Never?
CLAGETT: Never.
When the soldiers first landed, close to the Syrian border, they encountered no resistance whatsoever. The place seemed empty.
Eventually, they came upon a house where a man was looking out of the window. He was shot immediately.
They then advanced to a second property where they found three men hiding, using women and children as human shields.
According to Clagett, the male detainees were eventually separated. Zip ties were attached to their wrists. As Clagett tried to reinforce their cuffs, however, he said he was attacked by one of the detainees.
"I just got blindsided on my left side, and I just got hit in the face. … I spun around, staggered a little, spun around. I lost my vision. … Came back to and I saw this guy running, and I just picked up right in between both of them and I just fired. … He did hostile intent toward me."
"Because he just attacked me and all that ran through my head for those couple of seconds. So I engaged his target. With his hostile intent [this] gave me authorization to kill this guy. Then I know for Hunsaker, when I checked him out, he was cut on the face and on the arm and he received hostile action so that gave him [the] right to kill that guy."
For about four weeks after the killings in May, this was the account on record. Last month an entirely different version of events was given after three soldiers swore new affidavits.
One of them, Sgt. Leonel Lemus, a member of the 3rd Battalion, said that he had witnessed a deliberate plot to kill the three Iraqis and that the only cuts sustained by members of his division were self-inflicted in order to bolster their story.
In his statement, he said that he didn't initially tell the truth because of "peer pressure, and I have to be loyal to the squad."
Lemus also recalled Clagett suffering a form of post-traumatic stress days after the killings.
"Three days later he told me he couldn't stop talking about it. As if it bothered him. … He was really stressed because when he slept the few hours he did, he dreamed about it over and over."
We put this to Clagett during our telephone interview.
NIGHTLINE: Do you recall telling him that you couldn't stop thinking about the shooting? And that you felt ill as a result?
CLAGETT: Yes, I did.
NIGHTLINE: Why did you tell him that?
CLAGETT: Well, I'm human. I'm not one of these guys who is like, "Oh, I killed someone." I felt bad because even though he did attack me and I had a right to shoot him, I still felt bad because I had to take two guys' lives and that affected me in my head because I am a really caring person. And with the thought of me killing two people, that hurt me, even though it was for the right reason, it hurt me.
NIGHTLINE: Is it possible that you are really feeling deeply guilty about it and that's why you couldn't stop thinking about it?
CLAGETT: No, I definitely did not feel guilty. … I did not feel guilty because [of] what he did. I just acted accordingly of what he did to me. … So I mean I just followed my original rule of engagement.
Other soldiers have also come forward to challenge Clagett's account.
Spc. Micah Bivins has said that "the cuts on Hunsaker's face were fishy and awkward. They could have been done with a paper clip," supporting the allegation that the injuries were self-inflicted and part of a conspiracy.
Graber, the fourth accused soldier, said Hunsaker told him that he wanted to "kill the detainees."
There is one aspect of the division's conduct that both sides appear to agree on: that there is a competition between battalions as to how many Iraqis can be killed.
Bivins, in his statement responding to a question about whether the rules of engagement had anything to do with the large number of killings, said, "Yes, because there is a list. The high value target list has persons on it who are confirmed bad guys, and they are to be killed on sight, after confirmation it is actually them."
Again, we put the question to Clagett.
NIGHTLINE: Is it true that among certain divisions of American personnel in Iraq there is a list, a tally, of how many high-value targets are killed in Iraq. Is that true?
CLAGETT: Yes. It is true.
NIGHTLINE: Do you think having a list like that is helpful? Doesn't that generate a sense of competition?
CLAGETT: Yes, it does. There pretty much was a competition. Everyone is saying there wasn't but there was.
The scene is now set for a legal showdown between men who, until recently, were comrades on the battlefield.
The tight cords that once maintained discipline and an absolute commitment to the division have begun to unravel among the "band of brothers."