Guilty pleas in the military justice system
Entering Findings
Typically, the military judge will enter findings immediately after acceptance of a plea. RCM 910(g). However, where the accused pleads guilty to a lesser included offense and the prosecution intends to go forward on the contested charge: (1) the military judge should not enter findings after the accused pleads pursuant to RCM 910(g)(2); and (2) prior to commencement of trial on the merits, military judge will instruct the members that they should "accept as proved the matters admitted in the plea, but must determine whether the remaining elements are established" pursuant to RCM 920(e) Discussion.
Exceptions
If the accused requests members be informed of guilty pleas; or If guilty plea is to a lesser included offense and the trial counsel intends to prove the greater offense. RCM 913(a), Discussion. United States v. Irons, 34 M.J. 807 (N.M.C.M.R. 1992) (military judge committed error in not cleaning up flyer, which reflected greater offense to which the accused pled not guilty and which the government did not intend to pursue, was not waived by accused's failure to object; sentence set aside). In cases of multiple offenses, however, the military judge should instruct the panel that it may not use the plea of guilty to one offense to establish the elements of a separate offense. RCM 920(e) Discussion. Cf. United States v. Hamilton , 36 M.J. 723 (A.C.M.R. 1993).
Use of providence inquiry admissions in mixed pleas
United States v. Grijalva, 55 M.J. 223 (C.A.A.F. 2001). Accused shot his wife. At trial, MJ rejected the accused's plea of guilty to attempted premeditated murder, but accepted his plea to the lesser-included offense of aggravated assault by intentional infliction of grievous bodily harm. On the merits (of the greater offense) the MJ used not only the accused's plea to the lesser offense, but also his admissions during the GP inquiry. The MJ then convicted the accused of attempted premeditated murder. Following settled case law, CAAF held the MJ properly used the accused's plea to the lesser-included offense, but erred by considering statements made by the accused during the plea inquiry.
United States v. Ramelb, 44 M.J. 625 (A. Ct. Crim. App. 1996). Providence inquiry can be used only to establish common elements between LIO and greater offenses. After accused pled guilty to LIO of wrongful appropriation, TC proved greater offense of larceny through testimony about what accused said in providence inquiry concerning intent. TC must obtain independent evidence to prove greater offense.
United States v. Holt, 27 M.J. 57 (C.M.A. 1988). Sworn testimony given by accused during providence inquiry may be received as admission at sentencing hearing and can be provided either by properly authenticated transcript or by testimony of court reporter or other persons who heard what accused said during providence inquiry.
United States v. Dukes, 30 M.J. 793 (N.M.C.M.R. 1990). Court indicated that Holt permits the trial counsel to offer an accused's responses during the providence inquiry into evidence, "but that such responses are not automatically in evidence . . . an accused must be given notice of what matters are being considered against him . . . opportunity to object . . . on grounds of improper aggravation, undue prejudice, or whatever." See also United States v. Irwin, 42 M.J. 479 (C.A.A.F. 1995) (accused's description of his misconduct–AWOL, rape, sodomy, indecent acts, kidnapping, threats, and unlawful entry–was so detailed and graphic that trial counsel played tape to members; tape was proper aggravation under RCM 1001(b)(4) and not cumulative because there was no stipulation of fact).
United States v. Figura, 44 M.J. 308 (C.A.A.F. 1996). CID agent charged with forgery. Trial counsel sought to use providence inquiry to establish the dates of checks, where written, and where the checks were cashed because information did not appear in stipulation of fact. Parties agreed to have MJ summarize for court members the information stated during providence inquiry, rather than have a written stipulation of spectator testify. Court held there is no demonstrative right or wrong way to introduce evidence taken during providence inquiry, and that MJ giving summary to members was probably to accused's advantage.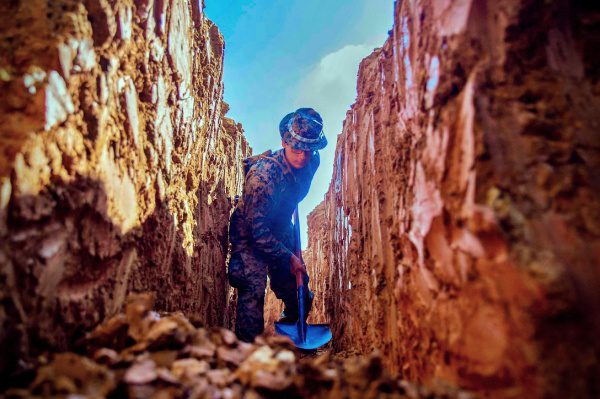 United States v. Langston, 53 M.J. 335 (C.A.A.F. 2000). Defense requested exclusion of witnesses from courtroom during providence inquiry. Military judge refused the request, ruling incorrectly that M.R.E. 615 did not apply to providence inquiry. CAAF held the accused was not prejudiced, however, as the bulk of the witnesses' testimony went to victim impact. (2)
See M.R.E. 615 on excluding "victims" from trial proceeding
Panel Not Notified of Guilty Plea
Generally, panel will not be informed when the accused enters mixed pleas. RCM 910(g) Discussion; RCM 913(a) (if mixed pleas have been entered, the military judge should ordinarily defer informing the members of the offenses to which the accused pled guilty until after the findings on the remaining contested offenses have been entered). Thus, where an accused pleads guilty to offense A, but not guilty to offense B, military judge should defer informing court members of the plea to offense A until after findings are announced on contested offense. United States v. Smith, 23 M.J. 118, 120 (C.M.A. 1987). See also United States v. Hamilton, 36 M.J. 723 (A.C.M.R. 1993) (reversible error to advise members that accused had pled guilty to other offenses).