Michael Waddington, a Georgia-based lawyer has been named a top attorney in Georgia.
FOX News – Feb. 28, 2014  — The 2014 list of top-rated attorneys in Georgia as published in the March 2014 issue of Atlanta Magazine includes Michael Waddington of Augusta, Georgia. This distinction is given to only a very small percentage of attorneys each year.
Attorneys are only considered for inclusion in the list of top-rated attorneys if they have attained a high degree of peer recognition and professional achievement across 12 indicators. Lawyers cannot buy their way onto the list. The selection process, recognized as legitimate by bar associations and courts across the United States, is multi-phased and includes independent research, peer nominations and peer evaluations. Only attorneys who can be retained by the general public are considered. Honorees are selected annually for each state and practice area.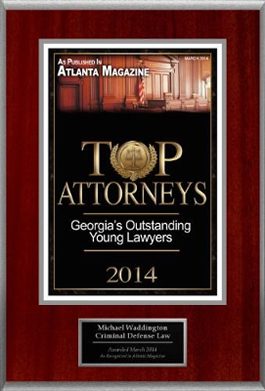 Michael Waddington commented on the recognition: "Georgia has so many excellent lawyers, it is an honor to be included in Atlanta Magazine's list of top-rated attorneys for 2014. I am grateful to my peers for their nomination."
Mr. Waddington defends serious criminal cases worldwide. Some of his high-profile cases have been reported on by major media outlets including CNN, The Rolling Stone, The New York Times, NPR, The New Yorker, Time, ABC Nightline, Good Morning America, the BBC and have been the subject of books and movies. He is a member of the American Board of Criminal Lawyers (ABCL), an exclusive, by invitation only, group comprised of the top 200 criminal lawyers in the world. He also wrote chapters in the 2013 and 2014 American Bar Association (ABA) books, "The State of Criminal Justice."
The plaque shown above commemorates Michael Waddington's recognition.
To find out more or to contact attorney Michael Waddington of Augusta, Georgia please call 800-921-8607, 706-664-1395, or visit www.ucmjdefense.com.
Following the announcement of Michael Waddington's selection for Atlanta Magazine's list of top attorneys in Georgia, American Registry seconded the honor and added Michael Waddington to The Registry™ of Business Excellence. American Registry, LLC, recognizes excellence in top businesses and professionals.