Tyndall Air Force Base, Florida
Tyndall AFB Military Lawyer | Court Martial Attorney
Tyndall Air Force Base in Florida is named in honor of First Lieutenant Frank B. Tyndall. The base is located in the vicinity of Panama City and is home to the host wing, 325th FW (Fighter Wing), 1st AF (Air Force), and the 53rd WEG (Weapons Evaluation Group). The installation was established in January of 1941 and named Tyndall Field (a gunnery range) and renamed Tyndall AFB in 1948. The base provides F-22A training to pilots; ensures air control and defense of the U.S.; and manages offshore weapons ranges and target drone programs ranging.
The 325th FW is assigned four groups, including operations, maintenance, mission support, and medical. The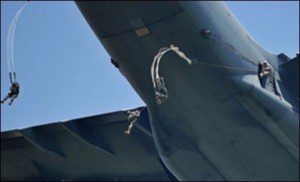 operations group comprises of three squadrons; the 43rd Fighter, 325th Operations Support, and the 325th Training Support. MG (Maintenance Group) consists of three squadrons; aircraft maintenance, maintenance operations, and maintenance. There are six squadrons in mission support; civil engineering, communications, force support, security forces, logistics readiness and contracting.
The Gonzalez & Waddington Attorney at Law Firm provides quality military legal services to military civilians and service members in the Air Force, Army, Coast Guard, Navy and Marine Corps globally. Our expert attorneys are aggressive and experienced in military law and courts. The reputable military legal Law Firm has defended clients in the United States, Europe and Middle East. Call our law firm or visit the Gonzalez & Waddington's website to request information and legal services.
To contact a defense attorney online at the Tyndall Air Force Base in Florida, provide your name, duty station, email, phone, rank, and description of legal matters. Our Law Firm will contact you anywhere in the world, including Germany, Japan, Italy, England, Cypress, Turkey, and other countries. The reputation of the firm includes successful winning of criminal cases, such as violent crimes, murder, sexual assault, war crimes, and court-martials.
Tyndall AFB Military Lawyer
Air Force Sex Assault Court Martial Attorney. Military defense lawyer, Michael Waddington, discusses Air Force sex assault court-martial cases at Tyndall AFB. Call 1-800-921-8607 to speak with a civilian defense counsel today.
Tyndall AFB Google Map Embed Code: