Tyndall Air Force Base Military Defense Lawyers
Tyndall AFB Military Lawyer | Court Martial Attorney
Tyndall Air Force Base, Florida: A Hub of Military Excellence and Legal Support
Nestled in the picturesque surroundings of Florida's Panhandle, Tyndall Air Force Base stands as a testament to the United States Air Force's commitment to excellence, training, and defense. Established in 1941, this base has a rich history and has played a pivotal role in the nation's defense strategy. But like any other military establishment, Tyndall Air Force Base is not without its challenges, especially when it comes to legal matters. This is where the expertise of court martial lawyers and military defense lawyers comes into play.
The Significance of Tyndall Air Force Base
Tyndall Air Force Base is renowned for its advanced training programs and its commitment to producing some of the finest airmen in the U.S. Air Force. The base is home to the 325th Fighter Wing, which provides training for F-22 Raptor pilots and maintenance personnel. With state-of-the-art facilities and a strategic location, Tyndall is an essential asset to the nation's defense.
The Need for Court Martial Lawyers at Tyndall AFB
Military life, while rewarding, can also be fraught with challenges. Service members at Tyndall AFB, like those at other military installations, may find themselves facing legal issues that require specialized expertise. Whether it's a disciplinary action, a dispute with superiors, or more serious allegations, the need for experienced court martial lawyers is paramount.
Court martial lawyers specialize in the unique aspects of military law. They understand the intricacies of the Uniform Code of Military Justice (UCMJ) and are adept at navigating the military justice system. For service members stationed at Tyndall AFB, having access to such expertise can make all the difference when facing legal challenges.
Military Defense Lawyers: Protecting the Rights of Service Members
While court martial lawyers focus on the specific proceedings of a military trial, military defense lawyers offer a broader range of legal services to those in uniform. From advising on matters related to military regulations to representing service members in both criminal and civil cases, these lawyers play a crucial role in ensuring that the rights of our men and women in uniform are upheld.
At Tyndall Air Force Base, the presence of skilled military defense lawyers ensures that service members have the legal support they need, whether they're dealing with administrative actions, seeking redress for grievances, or facing more serious legal challenges.
Why Choose a Specialized Lawyer for Military Matters?
The military justice system is distinct from the civilian legal system. The rules, procedures, and even the rights of the accused can differ significantly. This is why it's essential for service members to seek out lawyers who specialize in military law.
Court martial lawyers and military defense lawyers have a deep understanding of the UCMJ and the nuances of military legal proceedings. They are trained to provide the best possible defense for their clients, ensuring that their rights are protected at every stage of the process.
Conclusion: Tyndall AFB and the Importance of Legal Support
Tyndall Air Force Base is more than just a military installation; it's a community of dedicated professionals committed to serving their country. But even in such a tight-knit community, legal challenges can arise. Whether it's a minor infraction or a more serious allegation, having the right legal support is crucial.
For service members at Tyndall AFB, knowing that they have access to top-tier court martial lawyers and military defense lawyers provides peace of mind. These legal professionals are there to guide, advise, and represent them, ensuring that justice is served and that the rights of our brave men and women in uniform are always upheld.
Tyndall Air Force Base Military Defense Lawyers
Tyndall AFB Military Lawyer | Court Martial Attorney
Tyndall Air Force Base in Florida is named in honor of First Lieutenant Frank B. Tyndall. The base is located in the vicinity of Panama City and is home to the host wing, 325th FW (Fighter Wing), 1st AF (Air Force), and the 53rd WEG (Weapons Evaluation Group). The installation was established in January of 1941 and named Tyndall Field (a gunnery range) and renamed Tyndall AFB in 1948. The base provides F-22A training to pilots; ensures air control and defense of the U.S.; and manages offshore weapons ranges and target drone programs ranging.
The 325th FW is assigned four groups, including operations, maintenance, mission support, and medical. The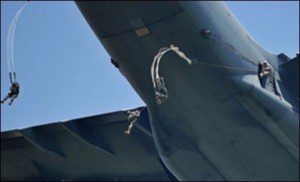 operations group comprises three squadrons; the 43rd Fighter, 325th Operations Support, and the 325th Training Support. MG (Maintenance Group) consists of three squadrons; aircraft maintenance, maintenance operations, and maintenance. There are six squadrons in mission support; civil engineering, communications, force support, security forces, logistics readiness, and contracting.
The Gonzalez & Waddington Attorney at Law Firm provides quality military legal services to military civilians and service members in the Air Force, Army, Coast Guard, Navy, and Marine Corps globally. Our expert attorneys are aggressive and experienced in military law and courts. The reputable military legal Law Firm has defended clients in the United States, Europe and the Middle East. Call our law firm or visit the Gonzalez & Waddington's website to request information and legal services.
To contact a defense attorney online at the Tyndall Air Force Base in Florida, provide your name, duty station, email, phone, rank, and description of legal matters. Our Law Firm will contact you anywhere in the world, including Germany, Japan, Italy, England, Cypress, Turkey, and other countries. The reputation of the firm includes winning criminal cases, such as violent crimes, murder, sexual assault, war crimes and court-martials.
Tyndall AFB Military Lawyer
Air Force Sex Assault Court Martial Attorney. Military defense lawyer, Michael Waddington, discusses Air Force sex assault court-martial cases at Tyndall AFB. Call 1-800-921-8607 to speak with a civilian defense counsel today.
Tyndall AFB Google Map Embed Code: