Military Sexual Assault Lawyers
What are Collateral Consequences of Sex Offender Registration?
Criminal defense lawyer, Michael Waddington, answers "What are Collateral Consequences of Sex Offender Registration?"
What are the effects of being a sex offender?
Sex Offenders Often Cannot Live Near or Visit "Places Where Children Congregate."
What does that mean? It means a registered sex offender may not be allowed to live near or visit schools, parks and playgrounds, beaches, shopping malls, stores, movie theaters, community centers, places of worship, libraries, recreational facilities, skating rinks, bus stops, and many more.
Collateral Consequences of Sex Offender Registration
A registered sex offender will often suffer the following collateral consequences of being convicted of a civilian or military sexual offense:
Denied housing
Loss of family
Isolation
No educational opportunities
Unemployable
Physical assault
Increased homelessness
Harassment
Financial hardship
Stigmatization
The decline in mental health
No internet access
Deterioration of social bonds
Loss of residency
Does a sex offender have rights?
Residence restrictions forced sex offenders to live farther away from employment opportunities, treatment services, and public transportation. Younger offenders were particularly impacted. Low-risk offenders were affected equally to higher-risk offenders.
Registration as a convicted sex offender can result in the following collateral consequences: Not being able to live in certain places, being a registered sex offender means you will be denied housing, and you may not be allowed to live in certain neighborhoods. You will definitely have difficulty finding employment.
People underestimate the collateral consequences of a sex offender registration.
Being a convicted sex offender as a result of a military sexual assault allegation is worse than having a federal conviction alone or being discharged from the military with a dishonorable discharge. Being a convicted sex offender has a lot of what we call collateral consequences. Collateral consequences of a military sexual assault conviction are things you don't think about having to deal with after a court-martial sex crime conviction.
The sex offender collateral consequences in every State are different. Here are a few examples. In some states, you cannot own a device that connects to the internet. You may not be allowed to have a computer or a phone or any other device that connects to the internet unless you give access to law enforcement or your probation officer, or whoever's monitoring you for the next 10 to 20 years. It can be very intrusive. It can be difficult to get a job or live a normal functional life? Under this provision, it is impossible to do basic things, like check your bank accounts, and print and email a resume.
Other things you can't do? For example, in Florida, you may not be able to go to a beach or be near a public park. On South Beach Miami a sign at the park says it is a crime for a convicted sex offender to enter that area, in front of Miami Beach, was a public park. So, someone who's a convicted sex offender for a somewhat minor offense cannot even walk onto a public park in the state of Florida.
Let's say you lose your wallet. You contact a cop standing on the corner and the police start looking for your wallet. Then, they find out you're a convicted sex offender, you could be going back to jail. Even if you committed no crime other than to step foot in a park or beach.
The bottom line is that sex offender registration is serious. It's something you must try to avoid at all costs. It's a very devastating thing to you and your family. If you're accused of or suspected of or charged with a sex crime or a sexual assault in the military, you need to invest the money in someone that has a lot of experience handling these types of cases. Otherwise, you can end up being a sex offender which may haunt you for the rest of your life.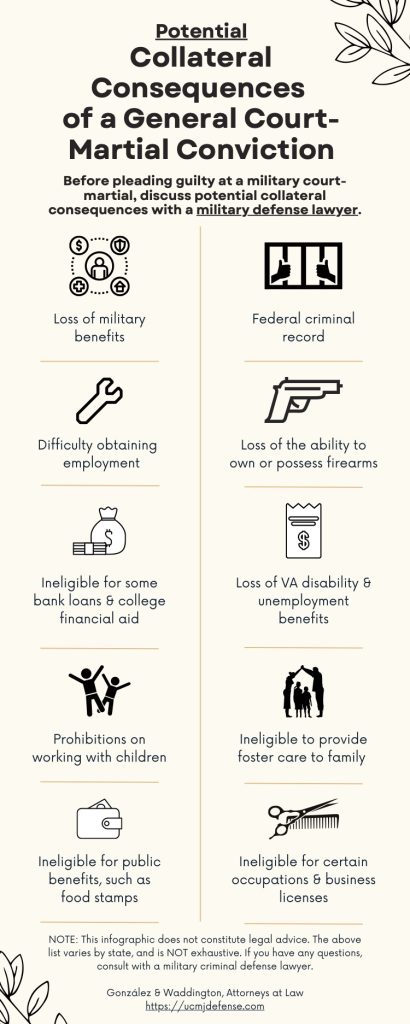 Infographic of Collateral Consequences of a Military Court-martial Conviction
Article on Sex Offender Collateral Consequences
Collateral Consequences and Effectiveness of Sex Offender Registration and Notification: Law Enforcement Perspectives
NCJ Number 253176 – Length 17 pages
Understanding Law Enforcement Perspectives on Sex Offender Registration and Notification
Annotation: This study presents results from a mixed-method study that examined law enforcement (LE) perspectives on collateral consequences and sex offender registration and notification (SORN).
Sex Offender Article Abstract
A growing body of research has examined sex offender registration and notification (SORN) collateral effects, particularly those related to offenders' social and economic reintegration into society. Although studies have examined public, offender, treatment provider, and other criminal justice perspectives on SORN's collateral impacts, few have elicited the views of law enforcement (LE) professionals who have contact with registered offenders. Results of the current study indicate that, although overall LE concern regarding collateral impacts is limited, those who are most engaged in SORN-related duties are significantly more likely to indicate such concern and more likely to believe that SORN is an effective public safety tool. Importantly, respondents in states with larger registries expressed greater concern over collateral consequences and less belief in SORN's public safety efficacy. Implications for policy and practice are discussed. (publisher abstract modified)
Call an experienced criminal lawyer today for help dealing with military sexual crimes and sex offender registration.